March 28, 2011
0

found this helpful
Best Answer
More than likely your detergent bottle is not leaking, it is the cap leaking after you have used it. (After you put it back on, the remaining detergent begins to seep out.) Try pouring the soap into a disposable cup (or another cap you have saved from an earlier bottle) and see if that's not "it". It is an annoying feature of liquid detergent.
March 28, 2011
0

found this helpful
Best Answer
The same thing happens to me, it isn't the cap leaking it's the actual carton. Here's a thrifty tip I used to fix it: I took a used, empty dryer sheet box, folded the lid back, and slid it under the container.
That way the dryer sheet box is under the spout, and the container drips down into the box. Problem solved, no more gummy, sticky messes to clean up. Hope that helps.
March 31, 2011
0

found this helpful
The same thing happens to me. I thought it was just a defective bottle, but after it happened with 4 different bottles, I quit buying the easy pour bottles. And I always rinsed the cap out with water before I put it back on, so I know it was the bottle leaking!
April 3, 2011
0

found this helpful
I'm glad to hear I am not the only one that has experienced this problem. I think the bottle is not designed properly. Detergent leaks out the seam. I had the problem with ALL, and TIDE more than once. I think it the because the bottle is sitting on wire shelving so it is not getting enough support for the weight and the liquid slowly leaks out the seam. Im surprised more people have not complained because most laundry rooms have the white coated wire closet shelving like ours.
I like the notion that I can keep the bottle on a shelf above the washer so I am going to place a piece of wood under the next bottle I use to add more support and see if that is the solution.The bottle I have is so weak and even now that it is properly supported the detergent leaks out the seam. It is such a waste and all the hangers that use that shelving are sticky from dripping detergent. Does anyone know how to voice this complaint to TIDE or ALL? the label on the bottle I have now is all washed off due to the problem.
October 25, 2016
0

found this helpful
I switched to liquid detergent with Arm & Hammer, the bottles didn't leak but granddaughter said it was making her itch. Bought Tide, her preferred brand. 146 load bottle, after using 3 loads go to run a 4th and the bottle is empty, shelf is soaked.
The bottle cracked sitting on the shelf. I sent photos to Tide's facebook page. My shelving is not wire, it is fortunately heavy, masonite or fiberboard, so it wasn't wire pushing on it. The little "leg" area of the bottle had a C shaped crack around the leg.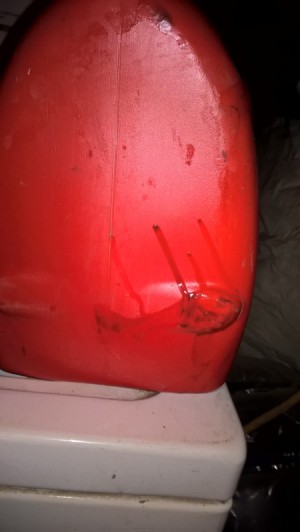 July 16, 2014
0

found this helpful
I have purchased 5 bottles of All liquid detergent over the last 2 years. They have each leaked out of the bottom seam within a day or two of purchase. Yes, before they were even used. The first bottle sat on my drier, the next one was on a sturdy wooden shelf.
The others were stored on the floor to reduce the possible mess. Each time I purchased I thought it was just a random bad bottle but I believe the quality of the container has declined. I love liquid All but won't be buying it any more.
October 8, 2015
0

found this helpful
I have purchased Tide with bleach, the dispense bottle too, for years and years. Last year, when I noticed the leak it was too late, it was all over my laundry room floor and cleaning that up was an awful mess, and needed the plumber to come out. It did not leak from the seam, it did not leak within a week or month of purchase. It leaked months later and it looked like a box cutter sliced it. I contacted Tide, they would not pay for the plumber but sent me two coupons for my troubles.
I learned, I put a plastic bin top, under the new bottle. Also, I put two towels under it. I have a Gain container next to it. Yesterday I saw that the towels were soaked with tide, and, yet again a crack, not in the seam. What the heck. I called Tide again and they will send me two coupons again. Why does Gain not leak but Tide does? I think that they are making their containers too thin.
April 4, 2016
0

found this helpful
It's not just ALL!!!!
March 15, 2017
0

found this helpful
If the bottle has leaked, you can do a claim and get quotes on the damages that was created by the product.
December 18, 2015
1

found this helpful
It has happened to me also, 3 times, contacted time they said not a common issue. I think someone needs to admit these are not random bad bottles, there is a problem with the containers and it is costing the consumer because Tide is not fixing it!!!
November 16, 2017
0

found this helpful
I have had 3 bottles of Liquid Tide leak. Who do you complain to and what results do you get?
April 4, 2016
1

found this helpful
I got a coupon too! For the same product! Which leaked too!!!!!
September 30, 2017
0

found this helpful
I have bought the large container of Extra a few times and every one of them leaked. I need that size to last me a month but I'm tired of the big mess. It has to be defective containers. They should listen to customers and figure out the problem.
July 12, 2018
0

found this helpful
I purchased a 5.01L of Persil. The white inner stopper fell out of the stopper draining 4.5L of detergent on over my laundry room. What a mess. It took me hours to clean it up. The tile floor has lost it's shine where the mess happened.
November 22, 2018
0

found this helpful
use the junky plastic bottle to put the powder form of detergent in. it works really well and the powder is a better value. you are getting a better concentrate without paying for all that water that is present in the liquid form
July 25, 2018
0

found this helpful
It never used to leak years ago. This is a conspiracy by the detergent maker to force you into buying the pods that they are so crazy about . Anybody want to touch that one?
December 2, 2018
0

found this helpful
People from 2011 were having this same complaint. Doubt its some scheme to get us to use/eat tide pods.