March 13, 2018
0

found this helpful
I love finding uses for lids ! I save mine grouped by size to make it easier but

Lilac
Silver Feedback Medal for All Time! 450 Feedbacks
March 14, 2018
0

found this helpful
I just fill smaller deturgent bottles and pour directly into the machine dispensers. No drip. Same with softener.

March 27, 2018
1

found this helpful
I Fill water bottles with laundry detergent and softener if Im going on a trip but at home I find that to be an extra step

Alicia
Bronze Feedback Medal for All Time! 122 Feedbacks
March 12, 2019
0

found this helpful
Wouldnt covering that shelf with contact paper make the spills easy to wipe up, and prevent further staining of the wood? No Tabasco sauce lids and rubber bands necessary!
Alicia,
I sure know what you mean, as I'd done that years ago, I'd put contact paper in the cabinets above the washer and dryer, but even wiping the laundry detergent off when it made a mess (because the bottles drip) that eventually removes some of the paint after awhile, and I wasn't that careful wiping it off.
I think that's why I really appreciated this suggestion with the bottle caps, because now I need to do a touch up on the paint in cabinet again from all the wiping off of the soap. I guess I should of run the contact paper out more to the edges, but I thought it would curl up on the ends in time.
I think because I can relate to this and the problem it causes, I love the idea of the caps. :)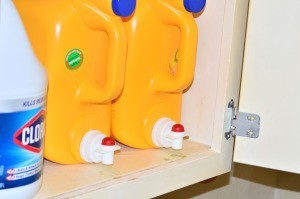 Forgot to say, I just went into the laundry room and took a picture *in previous post* of how the paint eventually gets rubbed off the cabinets from wiping off that liquid soap that drips all the time.
Sometimes, depending on the bottle, there has been literally a small pool of soap sitting there. I wish the "caps" could screw on, haha then it would never drip :)

November 30, 2021
0

found this helpful
A great idea, when you need laundry detergent like that you will make great use of the space and this is neat.

June 25, 2022
0

found this helpful
I make a 'drip catcher/lid holder from another bottle. The one I am currently using is a orange juice bottle.
Step 1
1. I start at the top, cut down 2 sides to about 2 inches from the bottom.
Step 2
2. Cut across from one side to the other to make a large opening.
Step 3
3. Remove area just cut. This leaves one side long to act as a 'hanger' for the drip catcher.
Step 4
4. On the remaining long side (hanger) cut a hole big enough to slip over the spout of the detergent bottle.
If the detergent cap or the hanger get messy, I just toss them in the laundry (with towels, jeans, or rags that won't be damaged). When switching laundry load to dryer, I remove the hanger and cap and reposition on the spout. (sorry if picture is sideways.)