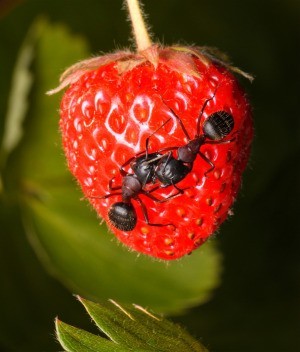 Some insects like your strawberries as much as you do. This guide is about getting rid of ants on strawberry plants.
Ad
---
Questions
Here are questions related to Getting Rid of Ants on Strawberry Plants.
How do I get rid of ants? I wish to get rid of the ants outside before they find the way inside. I really hate them on my strawberry plants. The plants are right next to the sidewalk and deck and the little fellas/gals are coming closer and closer to the door way.

Please understand I know they need to eat just like us but I work hard on having a few strawberry plants, which are NOT the ever bearing type. With my disabilities I can't stand having them crawl up my leg and I do not feel them until they are just about at my knees. They were all over my Humming bird feeder and I had to move the feeder a few times. The thing about that was I couldn't figure out how they were getting to the feeder in it's first location. There were so many I couldn't even start to count them all.

Do you know if ants have a GOOD purpose? I am just wondering about that. For some reason this year the ants are really bad and we don't seem to have any humming birds at all. There is also the wasp catcher which only catches those hardy little ants.

Thanks for your time!

Lia from Revelstoke, BC Canada
AnswerWas this interesting? Yes No
Ad
---
---
Most Recent Answer
By Ella 07/20/20070 people found this helpful
could find nothing about white flies on my plants but very helpful with ant help.""""
---
Solutions: Getting Rid of Ants on Strawberry Plants
Do you have knowledge about this guide topic? Feel free to share a solution!