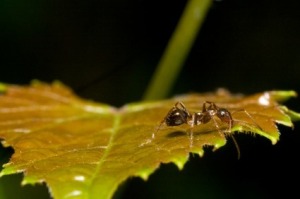 Question:
What is the best way to keep fire ants from setting up shop in outdoor potted plants? After recently transplanting two ornamentals, I noticed ants in the newly placed potting soil. I utilized Sevin Dust water hose treatment, but this was without success.
Hardiness Zone: 9a
Jo from Louisiana
Answer:
Hi Jo,
One of the best products I have found for keeping ants out of my flower pots (and my house) is diatomaceous earth (DE). Just sprinkle a tiny bit around the base of your pots or on the ants' "runs". It won't hurt your plants if you also want to spread a little on the topsoil.
I like DE because it is organic and it is safe. It contains nothing more than the powdered skeletal remains of tiny algae-like plants called diatoms (and maybe some water). DE is considered a mineral-based pesticide. It is made of up magnesium, silicon, calcium, sodium, iron, and several trace minerals. You can find it at garden centers, feed stores, and some health food stores, or order it online. DE is usually sold in 1-2 lb bags and has the look and feel of ground up chalk. I'm not exactly clear whether ants ingest it, or just perish as a result of coming into contact with it, but either way, it dries them up within about 30 minutes of exposure.
The only caution about using diatomaceous earth is that you should not continuously breath any of the dust. Once you open the bag, you may want to store it in an additional bag to help contain the dust. I've used DE both indoors and out. I also have pets and have never had any problems, but like any pesticide, I restrict their contact with it. Always read and follow the label directions carefully.
Another organic method I've read about is scattering worm casings 1 inch thick across the topsoil of potted plants. Apparently, fire ants (and whiteflies) in particular don't care for this. I have not tried this method personally, but I like the sound of it. You are feeding your plants, while keeping troublesome bugs at bay. If you try it, let me know how it works. You can order worm casings online, get them from worm composters, or find them where organic garden products are sold.
Good luck!
Ellen