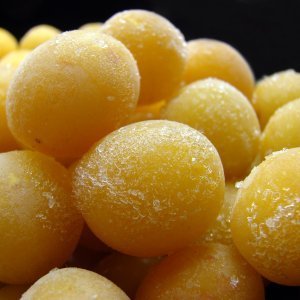 Freezing is a common method of preserving excess fruit and vegetables. So if you have an abundance of plums from your garden or found a great sale at the market consider freezing some for later use. This is a guide about freezing plums.
Ad
---
Questions
Here are questions related to Freezing Plums.
To prevent plums from turning brown I've read that you can wash them in a solution of water and lemon juice. True or false? Does it work and what's the amount you use of each, water:lemon juice?
By DF
AnswerWas this interesting? Yes No
Ad
---
---
Most Recent Answer
By Lewissan [40] 08/29/20120 people found this helpful
You can use about a teaspoon of lemon juice added the the plums that you are preparing to can. Not sure about the ratio for a water lemon wash.
How do I freeze fresh plums?
By GreenEyes
AnswerWas this interesting? Yes No
Ad
---
---
Most Recent Answer
By Becca J [2] 07/24/20100 people found this helpful
According to an old Farm Journal cookbook I have, plums are better canned for dessert than frozen however here ya go:
Wash and cut the plums in half, removing the pits or leave whole. Pack in syrup made with 3 cups sugar to 1 qt. water or pack dry. Remove as much of the air as possible and freeze.
Note: packing dry without syrup works well if you are planning on making jam from the plums (otherwise they get a little mushy when thawed).
Can you freeze plums and how do you do it?
By LindaT [1]
Can you freeze plums?
By Audrey
If I use apple juice to freeze the plums, will they taste OK later when I want to make jams?
By Sheri
Can I freeze Victoria plums?
By Janette
Solutions: Freezing Plums
Do you have knowledge about this guide topic? Feel free to share a solution!
Archives
Thrifty Fun has been around so long that many of our pages have been reset several times. Archives are older versions of the page and the comments that were provided then.
Can I freeze fresh plums?
Carmen from Fairfield, California
---
RE: Freezing Fresh Plums
You can, but then you'll be learning to make jam and jelly. Quickly rinse the plums, put them on a cookie sheet with sides AND a silicone sheet and freeze, then bag. You'll be able to take them out individually if you wish. good luck (07/15/2008)
By 2oma
RE: Freezing Fresh Plums
I freeze them for later use. I wash, slice in half, remove the pit, put the halves in a freezer bag, a tablespoon of lemon juice, squish the bag to get lemon juice on the cut sides, add white grape juice or apple juice and squeeze out the air and freeze. They are good in baked goods, puddings and sauces. I also freeze peaches and cherries for later. (07/16/2008)
By scott E.
RE: Freezing Fresh Plums
I froze them by just putting them in the bag and putting them in the freezer. They are a little mushy when you thaw them but good just to eat on a cold day, slightly frozen or to put into fruit salad or make a cobbler out of them. You can do almost anything with plums you can do with peaches. I also freeze peaches this way if I do not have time to peel them and slice them. (07/17/2008)
By Pat
Can you freeze fresh plums? What is the best method? Can they be frozen with the skin on and the pit inside?
By Dolly from Marion, TX