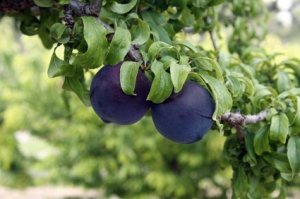 Planning Tips:
Plums are related to cherries and peaches, and many of aspects of their growing and care are similar. The key to growing plums is to select a variety that is suitable to your zone. There are two major types of plums-European and Japanese. European plums are hardy to zones 5-9 and Japanese plums to zones 6-10. Certain American plums and hybrids are extremely cold and drought tolerant and hardy as far north as zone 4. Select disease resistant trees that are 1 to 2 years old. Most European and American plum varieties are self-fertile, but produce much better yields if planted with other cultivars. Japanese plums must be cross-pollinated, either by American or other Japanese cultivars. A mature, full-size tree will produce about 50 pounds of plums every year.
Site Preparation:
Select a planting site with full sun exposure and average to rich, well-drained soil that has a slightly acidic pH (6.0 to 6.8). Avoid low-lying areas prone to frost or standing water and sites where cherry, peach or plum trees have been grown before. Japanese varieties prefer well-drained soil rich in nutrients, while European varieties are more tolerant of heavy clay soils.
Planting:
Plant plum trees in the spring or fall (avoid fall plaiting in zones 4-6). Trees should be set to that the graft union is higher than the soil line. Space standard-size trees from 20 to 25 feet apart and dwarf varieties from 15 to 20 feet apart. Bare-root plants are preferable to potted plants.
Care & Maintenance:
Plum trees are relatively pest-free fruit trees, but check them regularly for signs of fruit pests and disease.
Harvesting & Storage:
Plums can be left to ripen on the tree and harvested when they reach their mature size and color. If they are rich and sweet to the taste, and fee slightly soft when squeezed they are ready to be harvested. Store them for a few days in the refrigerator or from 2 to 4 weeks at cooler temperatures (31 to 32 F) depending on the variety.