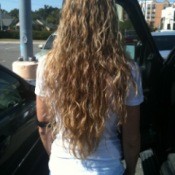 My hair is extremely long, below my waist, and naturally very curly. Due to the length of my hair, it pulls much of my curl out. I've learned many things about dealing with long hair. I didn't realize it until recently.
My brother kept cutting my niece's very long hair, complaining about how knotted it got. Recently, when Lena spent the night, I was putting her in the bath tub and began to brush her hair first. She stopped me and said " Mimi, you're so silly! You don't brush your hair before you wash it. You brush it after!" Without thinking, I responded, " Yes, baby normally that's what people do, but when you have really long hair like you and me, it's easier to brush it first. That way the knots are already out and it combs out easier when it is wet."
Later, I realized that was the problem that my brother had been having. No one brushed the baby's hair first, therefore it only got more knotted after having been washed. I told him as soon as he picked her up and it has helped a lot.
When you brush your hair first, you use less conditioner, because there are fewer knots. It is much easier to comb out because you haven't created more knots while washing it thus compounding the problem. A step in time saves nine, in other words.
I only get my hair trimmed twice a year. I don't have to cut it more often because of these few simple things I do.
I don't brush it actually, I comb it with a wide tooth comb. Brushing your hair puts stress on your hair creating more dead ends. Dead ends cause more tangles.
I very seldom blow dry my hair. Maybe 5 or so times a year. The heat of blowing it dry also causes breakage. This contributes to unhealthy, frizzy hair.
When I wash my hair, it's usually every other day. By doing this, I am not washing out the oils my hair needs to keep it healthy. Dry hair is more brittle and more prone to breakage. Also the more you wash your hair, the more you have to because your scalp is being trained to produce more oil. Another fact many don't know is that lice love clean hair. Washing it daily increases the likelyhood of getting lice and dandruff.
After washing my hair, I squeeze out the excess water, first with my hand, then with a towel. I do not flip my head over and do the oh so familiar turban with the towel. Twisting your hair up in a towel also causes breakage.
I don't use rubber bands in my hair. I use barrettes or scrunchies. The rubber in a band pulls and breaks hair.
This may sound like an awful lot just to keep healthy hair, but I promise I spend less time having to fix my hair and less products to tame it. These few simple things will keep your hair healthy and looking better therefore saving you time in the long run.
I was in cosmetology school years ago before having children, I didn't graduate, but I picked up a thing or two. Whether it's for you or that little girl in your life, healthy hair is more manageable and less time consuming.
By Mistie from Baton Rouge, LA