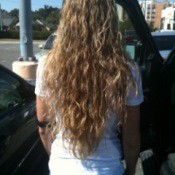 My hair is extremely long, below my waist, and naturally very curly. Due to the length of my hair, it pulls much of my curl out. I've learned many things about dealing with long hair. I didn't realize it until recently.
My brother kept cutting my niece's very long hair, complaining about how knotted it got. Recently, when Lena spent the night, I was putting her in the bath tub and began to brush her hair first. She stopped me and said " Mimi, you're so silly! You don't brush your hair before you wash it. You brush it after!" Without thinking, I responded, " Yes, baby normally that's what people do, but when you have really long hair like you and me, it's easier to brush it first. That way the knots are already out and it combs out easier when it is wet."
Later, I realized that was the problem that my brother had been having. No one brushed the baby's hair first, therefore it only got more knotted after having been washed. I told him as soon as he picked her up and it has helped a lot.
When you brush your hair first, you use less conditioner, because there are fewer knots. It is much easier to comb out because you haven't created more knots while washing it thus compounding the problem. A step in time saves nine, in other words.
I only get my hair trimmed twice a year. I don't have to cut it more often because of these few simple things I do.
I don't brush it actually, I comb it with a wide tooth comb. Brushing your hair puts stress on your hair creating more dead ends. Dead ends cause more tangles.
I very seldom blow dry my hair. Maybe 5 or so times a year. The heat of blowing it dry also causes breakage. This contributes to unhealthy, frizzy hair.
When I wash my hair, it's usually every other day. By doing this, I am not washing out the oils my hair needs to keep it healthy. Dry hair is more brittle and more prone to breakage. Also the more you wash your hair, the more you have to because your scalp is being trained to produce more oil. Another fact many don't know is that lice love clean hair. Washing it daily increases the likelyhood of getting lice and dandruff.
After washing my hair, I squeeze out the excess water, first with my hand, then with a towel. I do not flip my head over and do the oh so familiar turban with the towel. Twisting your hair up in a towel also causes breakage.
I don't use rubber bands in my hair. I use barrettes or scrunchies. The rubber in a band pulls and breaks hair.
This may sound like an awful lot just to keep healthy hair, but I promise I spend less time having to fix my hair and less products to tame it. These few simple things will keep your hair healthy and looking better therefore saving you time in the long run.
I was in cosmetology school years ago before having children, I didn't graduate, but I picked up a thing or two. Whether it's for you or that little girl in your life, healthy hair is more manageable and less time consuming.
By Mistie from Baton Rouge, LA
Read More

Comments
Tips for caring for long hair. Post your ideas.

Answers

March 26, 2005
0

found this helpful
Don't brush wet hair. Comb with a wide-tooth comb instead.
Only condition the ends of your hair.
By suebowman
Only put the conditioner on from half way down to the ends of your hair if you have oily long hair. Untangle snarls starting at the ends. suebowman is right. Use a wide tooth comb, preferably heavy duty. Tame conditioner was the best I ever used.
By Heather (Guest Post)
August 12, 2005
0

found this helpful
By accident I used my husband's Head and Shoulders and have used it ever since. My hair is in the best condition it's ever been in and it also keeps the summer frizzies away!!!

August 14, 2005
0

found this helpful
Before bed braid your hair so that you won't have many knots to brush out in the morning.

March 1, 2007
0

found this helpful
comb from the bottom up with a wide toothed comb.
By Jeanna (Guest Post)
March 7, 2008
0

found this helpful
Tame "conditioner" is the best I've ever used, too, but I believe it is no longer available. It was also the best detangler and did not weigh down my hair.
If I could find out who made it I would write to them. Anyone know?
Answer

this Question

My daughter is almost 12 and has super long hair down to the middle of her back. Should I cut her hair short or keep it? It's a lot of work when I comb it she always screams about the knots. Any opinions?
By emmayou
Answers

February 11, 2013
0

found this helpful
I have long, long, baby fine hair (to my waist) and I have found it easiest to let it nearly air dry and then gently brush it with a soft natural bristle brush. This removes tangles and smooths the hair so it does not tangle easily. It is important to keep the ends trimmed of any splits. She is old enough to do this for herself if she wants to keep it long. With my hair, I can't give a fair opinion on whether to cut it or not.

May 11, 2013
0

found this helpful
No don't cut it. Put leave in conditioner in her hair after she towel drys her hair after getting out the shower ... makes it easier to brush. You can buy some at Walmart for around $4.
Start at the bottom of the hair and work your way up when brushing.

August 20, 2017
0

found this helpful
What does she want to do? Maybe just cut it a few inches to see if she likes it. Or put it in a braid rather than trying to comb it out each day.

Judy
Gold Post Medal for All Time! 677 Posts
August 21, 2017
0

found this helpful
If you have been caring for it all this time, it will be hard for her to start. I would cut it to shoulder length. Teach her to comb from the bottom up to get rid of tangles. As she learns to care for her hair, she can grow it out.
Answer

this Question
I am 14 and have hair to my waist. I love it, but it can be really hard sometimes. I am trying to keep it long so when I cut my hair, I can donate it. I try to keep it heathly and beautiful. I have read a lot of articles on keeping my hair good. My only concern is how many times I should wash my hair each week?
By Karla G.
Answers

Louise B.
Silver Feedback Medal for All Time! 337 Feedbacks
December 16, 2014
0

found this helpful
I have never had hair this long, but when I did have long hair below my shoulders, I would wash it and set it in rollers every 3rd day. I thought that it got too greasy if I left it longer.

January 8, 2015
0

found this helpful
I used to have hair as long as yours! But it's only 1/2 down my back because of maintenance. I too donated my hair to "Locks of Love" but the rumors of money being used wrongly has kept me from doing it again. I keep to twice a week if I can manage it with the products I use.
There is the "Dry Shampoo" out now that is super helpful too, there are affordable brands like Suave out there. If you style it with blow dryers, flat irons etc. use a protectant! You are sweet to do this, someone is going to get their confidence back if they get your hair!
Answer

this Question