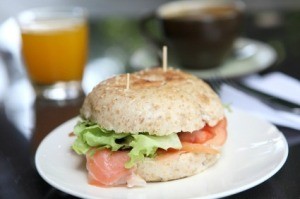 Sandwiches, mini pizzas, or with spreads, there are a variety of ways to prepare bagels. This page contains recipes using bagels.
Ad
---
Solutions: Recipes Using Bagels
Read and rate the best solutions below by giving them a "thumbs up".
I love the flavor combination of the ingredients for this sandwich and usually switch up how much of some of the ingredients used and hence why I suggest 'to taste'. Okay, I also happen to slather my bagels with the cream cheese mixture so please feel free to cut those amounts, or increase, if need be too.
Ingredients:
1 large bagel, split and toasted
3 tbsp cream cheese
1 1/2 tbsp feta, crumbled
1/4 tsp crushed garlic
Roma tomato, thinly sliced, to taste
cucumber, thinly sliced, to taste
red onion, thinly sliced, to taste
fresh basil, chopped, to taste
Directions:
Mix together the cream cheese, feta and garlic in a small bowl, spread the cream cheese mixture on both bagel halves, top one of the halves tomato, cucumber and onion slices, sprinkle with basil, top with the other bagel half and serve.
Tasty for breakfast, a snack, lunch or as appetizers :-)
Ingredients:
8 mini bagels
1/2 lb smoked ham, thinly sliced
1/2 cup red onion, chopped or sliced very thinly
1/4 lb mozzarella cheese, thinly sliced
Cream cheese
Lettuce leaves or sprouts, if desired
Directions:
Cut bagels in half horizontally (The bags of mini bagels I buy are already cut). Spread both cut sides with cream cheese.
Layer the ham, onion, cheese and lettuce on bottom half of the bagel. Cover with bagel top. You can cut into halves or quarters to serve as appetizers.
Serve immediately or wrap the bites in plastic wrap. They refrigerate well for up to 24 hours.
By Deeli from Richland, WA
Ingredients:
1/2 cup cream cheese, softened
2 Tbsp. Dijon mustard
1 Tbsp. honey
2 bagels, split
6 slices of thin sliced deli style ham of choice
Directions:
Mix the cream cheese, mustard, and honey in a small bowl.
Spread cream cheese mixture over cut sides of bagel halves, top two halves evenly with ham, top with remaining two halves, and serve.
By Deeli from Richland, WA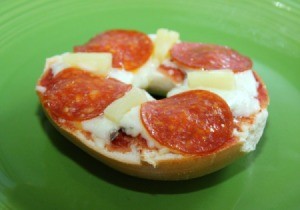 Everyone in our house has a different pizza favorite! Bagel pizzas are a great way to accommodate each person.
I like using sesame bagels with this flavor combination the best but plain bagels are good too. The amount of cucumber and radishes you use for this recipe will depend on how much each person likes to load their bagels ;-)
Also, using a mandolin slicer is perfect for slicing the radishes and cucumber. Any unused cream cheese can be stored, refrigerated, for up to a week.
Ingredients:
Cucumber, peeled and thinly sliced
Radishes, thinly sliced
Bagels, split, toasted if desired
8 oz whipped cream cheese
1 Tbsp. fresh cilantro, finely chopped, or more to taste
Directions:
Thoroughly mix the cream cheese and cilantro.
Spread the inside of both sides of each bagel, top the bottom side of each bagel with cucumber and radish slices, top with top side of bagel and serve.
By Deeli from Richland, WA
Ingredients:
1 1/2 cups mayonnaise
1 1/2 cups sour cream
2 tsp. Accent
1 (5 oz.) can corned beef, minced
2 tsp. dill weed
1 bunch green onions, sliced
bagel pieces
Directions:
Mix all of the ingredients together and serve with bagel pieces. This keeps for several days in the refrigerator.
By Robin from Washington, IA
Ingredients
2 plain bagels, cut horizontally into 4-6 slices each
2 Tbsp. olive oil
1 garlic cloves, minced
1-2 Tbsp. grated Parmesan cheese
Directions
Preheat oven to 350 degrees F. Place bagel slices on baking sheet. In small bowl, combine oil and garlic; brush onto slices. Sprinkle with cheese. Bake 12-15 minutes or until crisp and lightly browned.
By Robin from Washington, IA
Ingredients:
1 pkg. cream cheese
1 carton sour cream (4 oz)
1 pkg. dried beef
1/4 tsp. garlic powder
2-3 green onions (chopped)
1 pkg. (6) frozen bagels (thawed)
Directions:
In food processor, blend all of the above ingredients (except bagels). Chill at least 2 hours. Toast bagels, cut into bite-sized pieces. Serve with the dip.
By Robin
Give a "thumbs up" to the solution that worked the best! Do you have a better solution? Click here to share it!
Questions
Here are questions related to Recipes Using Bagels.
My daughter has just come back from a trip to New York and brought me back a bag of New York bagels. I put them in the freezer but I have no idea what to do with them. How do you eat them, toasted or no? Do you put fillings in between or just toppings on each half? I'm vegetarian, please could anybody tell me what to do with them? They are just plain bagels with poppy seeds on top.

Cettina
AnswerWas this interesting? Yes No
Ad
---
---
Most Recent Answer
By Digger (Guest Post) 01/30/2009 Flag
You CAN defrost bagels successfully in the microwave. Just pop them into an Eco-bag for about 35-40 seconds. You can get one of these handy defrost bags, also good for defrosting slices of bread, burritos etc. from the folks at www.itskitch.com
---
I'm looking for ways to use bagels that are a few days old. Has anyone used them in a breakfast casserole type of a recipe or bread pudding or stuffing, etc.? I'd love to have recipes or direct me to a Website that might have some ideas.

Please help, me as I'm trying to be frugal on a limited income.

Thanks,
Eva
AnswerWas this interesting? Yes No
Ad
---
---
Most Recent Answer
By Nathan (Guest Post) 07/08/2008 Flag
Yo, Me too! I need a way to use these bagels, because I get at least two dozen a day for free! maybe improvisational cooking could be in order.
---