Decorate With Vintage Mirrors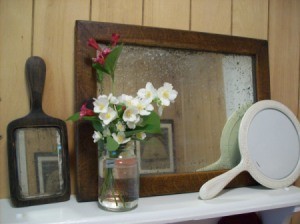 For me, old mirrors hold stories from the past and can bring a unique feel to any room. I like mirrors with personality - evidence that they've been a daily part of someone's life. I'm not concerned if some of the silver is worn off the back or if there are scratches and nicks. To me, it's all part of their charm.
I like to arrange a few on a shelf, a table top, or a wall to create a bright corner in the room. Any place is a good place for an old mirror or two - or three.
By Gloria
Feedback
Read feedback for this post below. Click here to post feedback.

By
06/21/2011
I used to find really old mirrors in thrift stores. I bought the ones with interesting frames and shapes and hung them on a wall in a dark hallway and really liked the look. It really brightened things up.

By
06/21/2011
Adds a nice touch of nostalgia too. I have a couple packed away. Might just as well get them out and use them like this. I really like the look too.

Thanks for a great idea.
Pookarina
Post Feedback
Add your voice to the conversation.
Related Guides
Related Posts