I am looking for suggestions for inexpensive gifts for school age children. My daughter is 4, and in preschool. We're starting to receive lots of invites to Birthday parties, which I love. I want her to make lots of friends. However, I'm guessing if I spend $15 to $20 on every kid during the year, I'll be broke come spring. Any suggestions?

Angie from Maryland
Recent Answers

By farmgirl06/07/2008
I saw this idea on a free preschool website

www.abcjesuslovesme.com

It is for recycling old crayons. I took our old crayons and melted them down (directions on the website). Placed them in a nice gift bag. You could add a coloring book or other items from the Dollar store to create a cute gift.

By (Guest Post)03/24/2008
I make all of my daughters girlfriends wooden purses. The purse is about 4.00 at michaels. I use craft paint to paint the sides and glue left over fabric on the front and back. If you have a boa or some sort of thing like that you can glue it to the top. It turns out really cute

By Gina (Guest Post)02/19/2008
This is one of the things I talk about on my money-saving blog for moms. Come check it out!

http://sahmmoney.blogspot.com

By Karen (Guest Post)01/24/2007
I get the Birthday child a Gift Card to Wal-Mart, Blockbuster, etc. in the amount of $5. Put it inside a nice card and they will love it, I promise.

Several parents have told me afterward that their child loved using thier very own "credit card" to purchase an item they picked out themselves.

By Carrie (Guest Post)01/22/2007
The most compliments and use from a gift I gave once was a CD of children's nurshery rhymes. the mother told me over and over how much her child loved it! i've seen these at dollar stores, or if you have recording software you could even record some of your own and drop it onto a CD.

By jeanne from michigan. (Guest Post)01/22/2007
One site I found that is fabulous is Oriental Trading.com...they have craft gifts, individually wrapped that you can buy in bulk, like in sixes, or dozens for next to nothing for what you get..it's fabulous..boys, girls and both..ck it out~~! I loved it!

By Kansaskaren (Guest Post)01/22/2007
Another cool gift --even for adults. A certificate for movie rental, a couple of bags of microwave popcorn and a box of candy

By cindy (Guest Post)01/20/2007
Marshalls, TJ Maxx has in expensive craft kits, books, etc...
What about a book
I would buy things on clearence or sale and put it away until it was needed.
Dpending on the child clothes My daughters were given really nice tees and they loved them and this can also be found on clearence or sale

By Debbie Dzurilla [24]01/20/2007
When my daughter went to kid's parties, I'd usually spend around $10 but it would just depend on what I'd find. You could do a gift card or gift certiticates for fast food. I think books make nice gifts too. Oh and depending on the age of the child, a disposable camera and a photo album.

By (Guest Post)01/20/2007
lots of great ideas that I use. Dollar stores, clearance racks, resale shops, garage sales. I also have used coupons for "movie day" with my kids, or a "park day" to be used for another time with a small gift item or card. That way, they can look forward to spending one on one time with a friend. I also face paint, so I offer to do that for parties if the parents want. It is part of the childs gift from us.
If you like to bake, or sew, homemade gifts are always a hit. Don't spend a lot, kids don't know how much things cost. I still get things from the dollar store and 5 items seem like more than 1 expensive one to them!

By sandy [63]01/20/2007
how about a picture of the 2 friends together. you could have it developed and frame it.

By Patty [6]01/20/2007
Draw a picture on heavy paper, or light weight cardboard, the size depends on you. Use tape loops to incorporate coins of differing values onto the picture. My children loved making this gift, and the little boy who received it loved taking the money off. I think that most children love getting money, and this way, a little money looks like a lot.

By sharon (Guest Post)01/20/2007
I love these types of gifts. I am making a bag for someones gift today. I went to micheals and they have some great stuff in the $ bins. great smelling candles,journals,even fun magnets. place them in a nice gift bag,add tissue paper and go. I am having a party planner use my kool aid purses. This will add a reuseable gift to mix. I know how cost can be an issue. I have been there. Dollar store toys are sometimes not good. Buy the Ty beenie babies when you can. great for gift bags. I can work out a sample bag with no cost only shipping. 2x1 purse

http://freewebs.com/koolaidpursestore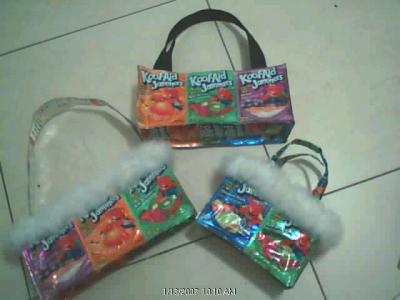 By Happy05 of Delaware (Guest Post)01/20/2007
I too purchase books and other items during the year to keep in my gift drawer. I have found great buys on books for all ages at closeoutbooks.com. I also agree with an earlier post about bestdealsmagazines.com being a great site. I gave some female friends magazine subscriptions for Christmas gifts and they loved it. My grandson loves Nick Jr magazine that I got for less than $5.

By Crista [1]01/20/2007
Wow! Lots of great feedback on this one...
I too check out dollar stores for little add-on gifts, but be cautious. It's easy to assume everything is a bargain and you can still end up spending $25 on junky knick-knacks. Also, things like gift bags, ribbon, toy cars, color books, etc. are typically less than a dollar at regular stores, so you're actually spending more! Party supply stores or discount outlets are a great place to stock up on ribbon, balloons, cards, etc..
I have a large storage tote that I keep year-round with little gifts to keep on hand for rewards, dinner parties, school gifts, that last minute party invite, stocking stuffers, basket fillers, whatever... Just keep your eyes peeled when you're doing your regular shopping. For example, last year at back to school time I found medium sized boxes of Crayola crayons for $ .20, washable glue sticks for $ .10, etc. (Back to school is a great time to stock up on all kinds of art supplies for kids). At Christmas time, I found Hot Wheels cars for $ .50 and grabbed an armload. Also, January and July are big sale months for large retailers. They need to make room for new seasonal clothing, merchandise, etc., so keep a watchful eye and you can grab really great deals on name brand items (and just about anything else). Books, games, hats, gloves, hair accessories, whatever. Also, don't forget to check out discount stores like TJ Maxx, Marshall's, Burlington or outlet stores. You can get name brand, high quality and designer finds for VERY little (especially during clearance months).
Above all, I say who cares what you actually pay for a gift. It's the thought that counts and the time spent with friends and family.

By carol [1]01/20/2007
buy at the dollar store a bumper colouring book a jumbo packet of coloured pencils or felt tips and if your feeling flush a big bag of sweets total cost 2 or 3 dollars at the dollar store in the USA or 2 or 3 pounds at the pound shop in the UK,

for older teenage age kids i would buy toiletries at the dollar/pound store they usually have fabulous shampoos & conditioners at way below other stores retail prices and u can pick up some great brand names

u could buy the girls the hair stuff and the boys the shaving gel/aftershaves/body sprays from the mens ranges


carol

By Linda (Guest Post)01/19/2007
One of the fav things I gave a young niece was a whole ream of her own of cheap printer paper-WOW! 500 sheets!, and some dollar store markers- about 30 different colors in a set! Get a box for the paper at any print shop and it will stay nice and not get all messy!

By Paula Jo Carr in Mebane, NC (Guest Post)01/19/2007
1. Go to your local $1 store.
2. Buy a $1 bottle of bubbles to blow that kids love.
3. Buy a helium balloon that says Happy Birthday.
4. Tie the string on the ballon around the bubble bottle for a weight and go.

Your total cost $2 and the receipant will love it no matter the age. Bubbles blown in the home cause no damage when they land on things they float onto - they just pop.

By Michawn [16]01/19/2007
Personally I am WAY OVER getting TOYS for kids, why not get them things that make then think with their minds. You know that everyone else is going to get toys, why not be different.

I get all of the kids ART supply presents. We start off with Dollar Store pads of construction paper (who doesn't love colored paper) and stuff. Michael's or the dolllar store has clay that never hardens for $1. After the big "Back to School" rush things like crayons, pens and colored pencils go on sale, I buy then too. I personally think that the only crayons should be CRAYOLA but do what you can. A pair of age appropriate scissors (those shaped scrapbooking ones are great, Michael's has them for $.50 right now).

Hope that helps some.

By Nancy (Guest Post)01/19/2007
In addition to keeping a "gift stash" (things I pick up on sale/clearance) for parties that come up, I also go to the dollar store, get some type of container (like a plastic basket thing) & fill it with some dollar store toys, games, candy, bag of bubble gum, etc. I've done this a few times & the kids love it, especially their own bag of candy/bubble gum.

By Lauri01/19/2007
bestdealmagazines.com
There are many cheap magazine sites...
www.magazinepricesearch.com compares prices for you

you can get a gift for under $5!!!! that lasts all year through...and do not forget to look for coupon codes to boot!

hth Lauri in NC



By Bev (Guest Post)01/19/2007
Glue remnant material on a shoe box. Glue sections to place crayons, beads, thread and leather for pendants, fancy paper cut in half. for cards, small coloring book and extra surprises.

By Jill [4]01/19/2007
Something else fun is to collect little trinkety kinds of things--erasers, toy jewelry, candies, small dollar store toys, etc. and stock up on rolls of crepe paper. Take your "best" treat that you will be using in the gift, and start wrapping with crepe paper. Periodically, tuck another trinket under the wraps of paper. Keep adding as you wrap.

Eventually you will have a good-sized ball filled with little gifts. The fun in this one is in the opening. the recipient unwraps for a long time, as the little things fall out. We have used this idea for gift cards, too (to add a little excitement to an otherwise rather "dry" gift.


By Jazzylazzy (Guest Post)01/19/2007
If you can sew, you can make a small travel pillow very inexpensively. It doesn't take much time and it's practical. The ones I make are about 12"x15". Kids really like them. Your child can help you stuff it.

By Joseph Raglione (Guest Post)01/19/2007
Hi!

Bake cookies and send half as a Birthday gift. Keep some for your own gang and send me some for giving you this suggestion.

By Katie [3]01/19/2007
What about a $5 bill in a homemade card? Everyone will know how much you spent, but I'll bet a lot of kids would rather have $5 than another toy.

By Brenda [9]01/19/2007
I have found that most children just want something to do and it doesn't have to be expensive. Find a craft project you think the child would enjoy or several children and buy things on clearance, at the dollar store, etc. Print out the directions and a picture of the finished project with the craft supplies. My nieces love this and it is so personalized. Make your own kit.

By me [3]01/19/2007
I have run into this problem as well, but i know some great ways to save money, I go to thrift stores like the goodwill, and i buy used kids books, i try to find the ones in nice condition, no coloring, ripped pages, etc. the prices can vary but most will be anywhere between .10 and .50 apeice, If you can find a really great place, and buy enough books, they just round it off to a dollar or two. I once bought 35 books for about 4 dollars. Needless to say my kids have alot of books. but anyway. choose age and gender approiate books, i usally give 4 or 5 in a box as a present. they may not get the biggest wow at the party, but they will be used alot longer then that fancy trendy toy. Most parents will appreicate the educational value and not having to worry about more toys to clutter up the house. I have found some books that were never even read, and some great classics like Dr. suess books mint condition. Besides if you go into a new book store your going to pay atleast 5 to 10 dollars for one book. you can check the clearence rack there too, but i promote recycling. I really hope this helps, i know i have had lots of compliments over this gift.

By Doggy (Guest Post)01/19/2007
I've found that children still love to create, despite all of the sophisticated toys available. I've had lots of success with putting together a creative kit, consisting of construction paper, crayons, sticker packages (tailored to the interest of the individual child), washable glue, blunt scissors, tracing paper, just about anything a young child can use with a minimum of supervision. You can put a really nice little kit together very inexpensively : )

By Pattie Hartley [1]01/19/2007
I look year round but now is a really good time to start purchasing toys on clearance sale. I try to purchase things that aren't realated to movie characters as that dates the item. But to me a barbie doll is a barbie doll. It shouldn't matter if I paid $1.50 after Christmas sale or $20 at the time of the actual party. The same thing for cars and trucks. I once sent my son to a birthday party for a little girl with a doll that I paid $4 for. It was originally $35 at Christmas time. I later found out that she had asked for that doll for a Christmas present but her parents just couldn't afford it. I keep a small supply stocked in my closet. My children know they are there and know what they are for. This also helps me if they are with when I purchase something that is really for their birthday. I just tell them it is for the closet presents and leave it at that.

By jojo (Guest Post)01/19/2007
You can pick up great children's gifts/toys/games from many 'dollar' stores. Also keep an eye out for reduced/clearance children's books etc.
Look out for kid's dvds on special and package with a bag of popcorn. If you see a good special it might be an idea to buy 2 or 3 at a time if you know you'll probably use them at some stage. You should be able to put together many gifts for between $5-$10 each. If you're crafty at all you can knit pretty scarves for a few dollars each or buy plain photo frames and decorate them with your daughters help! Good luck.
Answer This Question
Add your voice to the conversation. Click here to answer this question.