EllenB
Gold Post Medal for All Time! 858 Posts
Here are examples of how a few products that nearly everyone has laying around the house can be incorporated into the garden.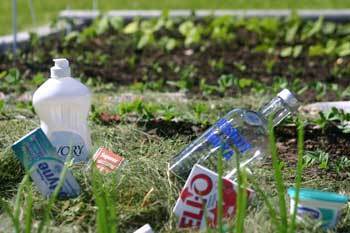 Aluminum Foil
Crumpled up into a ball, aluminum foil makes an instant birdbath scrubber.
Aspirin
Two aspirins dissolved in a quart of water will help keep cut flowers looking fresh.
Baking Soda
To minimize damage from dog urine, apply one cup of baking soda dissolved in a gallon of water to burn spots every three days until the grass recovers.
Beer
One part beer and two parts water makes a drink your azaleas will love (it increases the soil's acidity). A saucer filled with beer placed next to hostas will attract and drown snails and slugs.
Dropping a little used cat litter down a gopher or mole tunnel will discourage them from living in the area.
Cereal
Use it as a fertilizer or to attract birds to feeders.
Chalk
Ground chalk can be mixed into soil to prevent diseases caused by calcium deficiencies.
Cola
A soak in cola will loosen the rust on garden tools. Pour flat cola into a compost bin to give microorganisms a boost.
Coffee
When mixed into the soil, used coffee grounds acts as a fertilizer. Dry grounds deter ants when sprinkled around anthills.
Dental Floss
Loop it around nails, weave it through eye screws spaced up the side of a wall for a cheap trellis, or use it to secure plants to stakes.
Dish Soap
One ounce of dish soap mixed with 2 cups of water will control most pests when sprayed directly on plant leaves. Rinse the leaves with water after 1 hour to avoid any burn damage. Use a dish soap, like Ivory, that is safe for the environment.
Dryer Sheets
Place a used dryer sheet over drainage holes inside planters to prevent losing soil when watering.
Dust Busters
Insect pests and weed seeds (like dandelions) can be vacuumed up with a dust buster. It sounds crazy, but it works!
Glue
Crazy glue works well to seal leaky garden hoses. Wood glue works well to seal off pruned branches.
Jell-O
A few teaspoons of Jell-O in potted plants will help them retain moisture as well as enhancing plant growth by enriching the soil with nitrogen.
Lip Balm
A light coat of lip balm on garden tools helps to prevent them from rusting.
Panty Hose
Panty hose work great for storing and hanging bulbs over winter. Cut off the feet and slip them over the heads of cabbage, broccoli or pollinated corn to prevent insect and worm damage. Make kneeling pads by stuffing panty hose with foam, bubble wrap, holey socks or old kitchen sponges.
Petroleum Jelly
A thin coat on the poles and chains of hummingbird feeders will prevent ant infestation. A thin coat on garden tools lubricates rusty parts.
Straws
Use straws to elongate the ends of flower stems that were accidentally cut too short.
Tabasco Sauce
Combine Tabasco, Ivory dish soap, and black pepper in a spray bottle for an effective organic pest repellant.
Tea
Pour tea on compost piles to speed up decomposition, increase acidity, or attract beneficial bacteria.
Toothpaste
Toothpaste works as a great polishing agent for garden tools, relieves itching from bug bites and neutralizes onion or garlic odors on your hand when you wash with it.
Vinegar
Water blueberries or cranberries (occasionally) with two tablespoons of white vinegar mixed with one quart of water. Use it as a cat repellant by spraying (full strength) around the base of birdbaths and feeders.
Vodka
Rub a sponge or rag soaked in vodka onto clothing, then rinse thoroughly to remove grass stains.
Yogurt
Mix a cup of plain yogurt, a cup of water and a handful of moss in the blender for 30 seconds. This mixture spread on planters or between stones will grow a blanket of new moss in a just a few short weeks.
Yogurt Cups
Yogurt cups are great for starting seedlings. Punch drainage holes in the bottom, line them with coffee filters and fill them with dirt. Pop out the seedlings, filters and all, to transplant them. The filters will easily decompose in the soil.
© 2005 ThriftyFun
Comments
By (Guest Post)
June 29, 2005
0

found this helpful
Top Comment
Starbucks gives away used coffee grounds free.

July 10, 2005
0

found this helpful
Top Comment
I have seen several uses for vodka or gin in homemade weed killers, stain removers, etc. What I can't figure out is why plain old rubbing alcohol wouldn't work just as good or better. I just checked the label on a bottle and it's 70% alcohol by volume.
Since it is so much cheaper than vodka or gin, wouldn't it be better to use it for these projects and save the booze for grander things?