I have a German Shepherd / Pit Bull mix, he is 3 months old, but he is biting everything, like our hands and legs. We give him toys to chew on he will, but goes back to biting our fingers. I don't know if it's a puppy stage or is it signs of aggression. I'm scared because we have little ones which he has bit already.
Christina from El Paso, TX
Answers:
3 Month Old Puppy That Bites
You need to find a good trainer in your area and go to puppy classes. Some biting at that stage is normal. You have to ignore him or say "oww" when he bites you. Then give him a few seconds to think about it and then hand him a toy and play with him using only the toy. If he uses his teeth on you stop the playing again. Everyone in the house has to be doing the same thing. A lot of times some people like to "rough house" play and wrestle with the pup. The pup won't know the difference between an adult or the child playing with them.
Here is a website from the Humane Society. hsus.org/pets Maybe it will help. (01/09/2008)

By junebug_000
3 Month Old Puppy That Bites
I have a Shep mix (we are really not sure what else is in her). One thing that we did when she would bite that was very effective is to "yelp" loudly when they bite you. They learn from their siblings when they are too rough by their yelp. It is annoying for the first few times, but it sure did prove to be effective. (01/10/2008)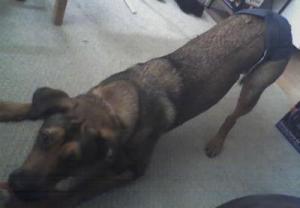 3 Month Old Puppy That Bites
The only thing I can think of having had many puppies in the past is to use a spray bottle of water and spritz him and say "no" at the same time and do this for every bad behavior. Also reward him for good behavior with a treat and lots of love. I have trained my dogs to sit and wait to be given their dinner and water. This also works if you don't want him to jump. It's never too early to start training for good behavior. Never bad puppies, just uninformed owners. Good luck. (01/10/2008)

By craziluci
3 Month Old Puppy That Bites
You are right to ask how to differentiate between "playfulness" and beginnings of aggression. It is important to start dogs off correctly; I suggest going to a dog trainer or reading all you can on puppy training. Having always raised large dog breeds (German Shepherds), here is what I do.
Be sure pup gets lots of exercise. At least 30 minutes twice a day (we do 60 minutes twice a day). Dogs have a lot of energy some biting may be frustration, pent-up energy, or negative demand for attention. Pay attention when pup is being good. A settled dog is a happy dog.

Teach pup to focus attention on you by saying "watch me" and directing them to your eyes. This focuses their attention. When they do stop what they are doing and focus on you, reward them. This is a basic command that can help if they get distracted and takes their minds off being bad.

Use commands consistently. We use "leave it" when we want dogs to leave something alone, "off" when they should not jump up and "wait" when we want them to be patient. We also use "easy" for being gentle. We reserve "no" for the really important stuff, and when we say it (since we do not abuse it) they know it is very serious. Do not dilute commands by using them inconsistently or interchangeably.

Always reward good behavior, even if pup shows small improvement. Keep puppy training sessions short, no more than 15-20 minutes.

Immediately correct bad behavior, you do not have to be mean about this, just precise, timely, and consistent. I suggest you work with a lead and leash for training sessions and if pup misbehaves, say "eh" loudly, and immediately use leash to have dog sit and wait. This is not fun for them so they learn biting or misbehaving results in doggie time outs. They learn amazingly well.
Good Luck. (01/10/2008)

By Susan
3 Month Old Puppy That Bites
Pups usually do go through this biting stage. I use to train and show dogs, so I had to also deal with this problem. Every time he even starts chewing or biting, thump him on the nose and say "no bite". Always use the same words, never change the words "no bite" and the thump (not hitting) on the nose. You just have to keep doing it over and over, every time he starts the biting. It may take as long as a month to stop, and then in some dogs gets the message in a week. Kay (01/10/2008)

By Kay
3 Month Old Puppy That Bites
Get on top of this behavior ASAP. Use these good suggestions which ever seem to work for you. Dog must be taught not to be mouthy, ever. Pups play bite each other naturally. Human skin is like tissue compared to puppy hide. Everyone in the family needs to correct immediately, redirect, and praise for good behavior.

Set the dog up. Elicit the behavior you don't want, without using the dog's name. Do this when you are alone with the dog (no distractions). Be standing up. Give the correction you decide to use. When the dog complies, take him a few steps on the lead or by the collar, have him sit and then praise that good calm behavior.

Start out with a level 1 correction, escalate correction as needed. Use a 7 seven level if needed without going back to a 1. If you are repeatedly using a level 1 correction with no result, that is called nagging and never works with any species, including people. Be direct, clear and above all, consistent while you make sure the whole family is on the same page with this.

As you work to train your dog, you will be able to tell if this is puppy nonsense or aggressive behavior. If you feel it is aggression get professional help. You are working with a blend of dog that needs strong leadership. Decide now who the pack leader is in your home. The dog must learn to respect even the youngest child.

All this training, praise, and correction must be done clearly and consistently without anger or cruelty. Get a good crate and crate train the dog. Crate training speaks to the denning instinct present in all canines. Until you have trained good behavior the dog must be supervised or contained (crated).

When you put your dog in the crate, which should be out in the family area, toss in a cookie or toy and happily say, "crate" as you put the dog in. It will be a positive, not negative experience. Never throw him in the crate for punishment. Separate bad behavior and going in the crate by correcting the dog for misbehaving and redirecting the dog to something he knows how to do, so you can praise him. Then put him in the crate as directed above.
This dog sounds like he's already animated so you want to use calm, slow handling for training. Always have a proper fitting collar on the dog, it's like their steering wheel. Wear this puppy out with play twice a day. Tug toy, is great, but since you own all the toys, take it away at games' end. After play, relieve, then crate time. Always relieve dog after being in the crate.

The most important learning takes place in a dogs brain between the 6th or 8th to 16th week of life. Good Luck.
(01/11/2008)

By Vicka