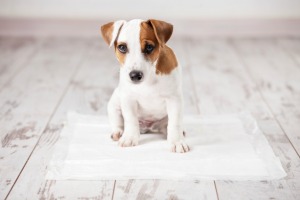 Crate training seems to be all the rage these days although it's relatively new. Possibly because more people are spending more time away from home. Both spouses working and so on. It's trendy, I suppose.
But in the not too distant past, people house trained their dogs successfully without a crate. Crates are useful for transporting and to keep your pet safe in certain instances. But in my estimation, not such a good way to house train an animal who will likely be spending his entire life with you.
Yes, this may be just opinion, but I have house trained all my dogs successfully and they have never been in a crate.
It is such a sweet and wonderful time having a new puppy in the house. But please, before you get him, do research, inform yourself on what his needs are. Do some research even to find what kind of dog will fit best in your home and lifestyle; high energy, low energy, loyalty to small children, and so on.
The more time you spend picking out a dog makes it better for all concerned. Of course if he is a rescue and needs you right away, just be sure you are prepared to make a few sacrifices and to be very understanding.
For those of us who rescue dogs it doesn't feel like a sacrifice, but there are families who are not so prepared to deal with soiled carpets, chewed things, including people, inappropriate barking, and all the other things that can come along with a dog whose needs haven't been met. It is between you and your family to honestly decide if you are willing to embrace a new animal and do what is needed to meet his needs and your own.
Make an active effort to have a responsible person around the home for at least a week or two at all times when your puppy first comes to your house. The more time you can spend with him when he is little ensures that he can be a safe, happy and well adjusted adult dog.
Puppies don't have very big bladders and can pee a lot of times in a day. Which is great for training. If you notice him circling and sniffing the floor you can be relatively certain he is thinking about going for a pee.
Gently pick him up and take him outside. He may lose interest in peeing once he gets outside, but be patient. If and when he does let him know how pleased you are, lots of praise and lots of love.
Sometimes he will totally forget about peeing and you can let him back inside, but watch him closely and repeat going outside when he starts to sniff and circle.
If you take him to the same place outside he will quickly learn from the puddles he has already made that this is a good place to pee. That's what he is looking for when he is sniffing the floor.
Accidents do happen though with puppies. If you catch him in the act, gently pick him up, don't say "good dog/bad dog", just suggest that we should go outside. Likely he's done, but give him 5 minutes outside and don't play with him at those times. Play time is for after he pees. Poops.
Right after meal time is poopie time. And you will see him doing the poop squat. Of course take him outside right after eating if you can; give love and praise for a job well done. He might go poopie other times too, just watch him. It's like having a toddler around the house.
If he does have an accident, don't make a big deal about it. I find that SpotBot is great for such things. But any spot cleaner will be useful. Take the dog outside, don't reprimand. And deal with the mess later.
Ignore bad behavior and reward good behavior.
Your puppy is motivated by wanting to please you. And he really is just a little kid--so be understanding. Watch the look on his face and the waggle in his tail when you tell him what a good dog he is. He loves it! And will do almost anything to get it. Teach him what behaviors will get the "good dog" approval.
If you must be away from home when he is new to your house, well I feel sorry for him. He has just lost his mother and his siblings if he had any and now he has to spend the day alone? And to add insult to this still is it fair to stick him in a crate? People often fail to realize what a big deal it is for the puppy.
You could confine him to a puppy safe room and do what you can to paper train him in the same way you would for outside, then move the papers outside as he gets bigger.
A dog will suffer and bear a lot of things because he loves you. But he has needs and as a responsible and loving dog companion, you can make the commitment to give him the love and patience he needs when he is little so that you can be assured that you warrant the abundance of love he gives you.
A lot of dogs end up in shelters with behavior problems because people failed to educate themselves on the needs of these beautiful animals before they got them. Animal shelters are sad places.
And good heavens, dogs are such loyal, responsive, smart, and loving animals. Dogs are not born with behavior problems. And since it is us humans who are bringing dogs into our homes, it is up to us to teach them responsibly and with respect and love for the wonderful creatures that they are.
By Sheraone from Ontario
Comments

January 7, 2011
1

found this helpful
Top Comment
I agree, this is a very good article about how to train a puppy with kindness,compassion & patience - thing it seem a lot of people don't have nowadaysToo many people are either ignorant to how much time a dog takes, or just plain selfish, that they want one but leave it home alone ALL day alone while they work & all weekend while they play-then wonder why their dog has behavior problems!
I grew up with dogs, my parents raised Samoyed Huskies when I was little, we have always had dogs & this is how we trained them-never with meanness, and we never had crates.However, I think crates DO have their place.
We got a dog about 4 years ago. She was a 3 month old rescue pup. We knew when we got her that she would have to travel with us because: our family all live 1000 miles away, she would be staying with my adult daughter sometimes, & at the time we got Lightning,I was working 3 hours a day. So we incorporated the crate in her training from the beginning. She knows her crate as a safe place, not a place to be sent when she's punished. The door is open for her & she sleeps in it at night,naps in it & knows when she gets in it,she is off-limits to the grandkids - my boys call it her "Happy Place"! It goes with us when we travel & we set it up wherever we end up (motel, parents' homes,etc),put her bed in it & she know it is a safe familiar place no matter where she is.
It's a good thing we did this with her too. She is 1/2 Queensland and 1/2 Corgi. She can be very nervous & neurotic, seeming to get worse as she gets older. She gets so upset sometimes when we leave her home that she will tear things up. So, when we all leave home for even 10 minutes, she is now put in her crate with a chew bone & the tv left on. I don't know if it eases her anxiety or not, but if we don't put her in her crate & she tears something up while we're gone, she nearly turns herself inside out in shame when we get home, so at least it eases that pain for her.
I think for someone to use a crate to contain their dog for hours on end, day after day, it is very unfair to the dog & obvious they don't have time for it. But a crate can be used very effectively if done in the right way, for the right reason!
Read More

Comments