How can I get my puppy to stop peeing in his crate at night?

Audrey from New Jersey
Answers
July 29, 2008
0

found this helpful
My aunt has a baby monitor in her room, so she can hear if the dog (her's is older ) start to whine to go out. You could try that, or the tried & true getting up every 2 hours. Kind of like potty training a child.
July 29, 2008
0

found this helpful
The puppy can't help peeing in his crate. but to train him (there are some good books out there) you keeping moving (say if your using newspapers) to a smaller and smaller area of the crate - he will not be able to help peeing til his is an older dog and can hold it thru the night.
(also what type of dog, etc. - some are harder than others to train) And if you set the baby monitor up - you will get the puppy in the habit of waking you up at night to go outside - but if that's what you want....
By Dori (Guest Post)
July 29, 2008
0

found this helpful
Hi, everyone is right. Especially just training a puppy myself use this formula for a puppy's bladder for every month in age thats the number of hours he can hold it. Three months old should be able to hold it for 3 hrs. That means getting that baby outside every 3 hours, etc. Set your alarm and go to bed in sweats. Believe me, the time goes fast.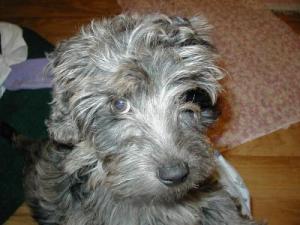 Read More Answers
How do I stop my 8 week old puppy from peeing in her kennel? When we first got her, I introduced her to her kennel, just like all the books say, but she still doesn't care for it too much. We had a little breakthrough when she went in her kennel twice last week to go to sleep, but since then has stopped. She sleeps in the living room in her kennel, because it's when she sees us at night that she starts whining.
I had set my alarm for every three hours to take her out, but she would still have soaked her towels. I read to not put anything absorbent, so they would feel it more. I did that, and she doesn't seem to care! My husband put her in her kennel, right after taking her outside, so he could take a shower. Twenty minutes later she had already peed in her kennel and was soaked with it!
I think it must be anxiety caused, since she didn't need to go, and she is really good about holding it a long time when she is out of the kennel. She's so smart, she's already gotten the hang of housetraining, just not her kennel? I really want this to work because our other dog is kennel trained and very happy! Any help would be great!
Starrangel85 from Dickson, TN
Answers
By Claudia - MD (Guest Post)
September 25, 2006
0

found this helpful
Your puppy is probably still too young. Here's something I found on the internet:
A Note About Crating Puppies
Puppies under 4 months of age have little bladder or sphincter control. Puppies under 3 months have even less. Very young puppies under 9 weeks should not be crated, as they need to eliminate very frequently (usually 8-12 times or more daily).
Maybe give it a try when she's a bit older- it really does work- I have crate-trained all my dogs.
September 25, 2006
0

found this helpful
You should get a book called, "How to Housebreak Your Dog in Seven Days", by Kalstone. It's helped me a lot. I just got an 8 week old miniature pinscher and she is doing pretty good being crate trained, but maybe you could try the other suggestion in the book. In the book it says that puppies under 4 monthes do not have complete control yet and shouldnt be crated.
Until your puppy is 4 months, you should leave her in a newspaper lined kitchen (small area) with her crate open at all times. Make the a fun place to be, with toys and blanket. This way when you start crate training she will like her crate. (Also, Ive been tossing treats in my puppies crate while shes not looking so when she finds them in there she will like her crate) Let her pee and poop on the newspapers and dont say anything when she goes, just clean it up quickly. That way you wont confuse her for when its time for crate training. Then when shes older and has more control you can start crate training.
By jillian (Guest Post)
January 6, 2008
0

found this helpful
I we have recently adopted two puppies; a 6-7 month old mutt and a 8wk old Rotti pup. The six month old had no prior training so the first week he messed in the house...a lot. I read a book entitled "No Bad Dogs" by Barbara Woodward. She suggested that you crate the pup or dog for 3 days straight, and let your puppy out at 1 hour, then 2, 3, and so one until you can get up to 7-8 hours.
Make sure you then bring your pup outside, instruct where you would like them to go and lots of praise when mission accomplished. This time to should be a little 5 minute break of fun! It worked! The 6 month broke his "bad" habits and no accidents since. Helps to plan it for a weekend. the 8 wk old had one accident when we brought her home but already is able to potty on command. Best wishes and good luck.
By Jessica (Guest Post)
April 5, 2008
0

found this helpful
I have a corgi puppy that is almost 7 months old. She is peeing in her crate most every night. I take water away 2 hrs before bed and she is taken out every hour to hour and a half before bed time. She is house trained during the day and spends a scheduled amount of time in her crate daily. I put her to bed at 10:30 and get up with her at 6:30 am and she has peeded all over herself. The crate is not too big. SHe only has room to turn around. Could this be a habit?
By kate (Guest Post)
April 16, 2008
0

found this helpful
You can take him outside to pee, oh and if they whine put the radio on low volume.and put toys in the kennel . Wrap a hot water bottle in a towel and put it in her kennel, that will soothe her.
Answer

this Question

...