July 29, 2008
0

found this helpful
My aunt has a baby monitor in her room, so she can hear if the dog (her's is older ) start to whine to go out. You could try that, or the tried & true getting up every 2 hours. Kind of like potty training a child.

July 29, 2008
0

found this helpful
The puppy can't help peeing in his crate. but to train him (there are some good books out there) you keeping moving (say if your using newspapers) to a smaller and smaller area of the crate - he will not be able to help peeing til his is an older dog and can hold it thru the night. (also what type of dog, etc. - some are harder than others to train) And if you set the baby monitor up - you will get the puppy in the habit of waking you up at night to go outside - but if that's what you want....
By Dori (Guest Post)
July 29, 2008
0

found this helpful
Hi, everyone is right. Especially just training a puppy myself use this formula for a puppy's bladder for every month in age thats the number of hours he can hold it. Three months old should be able to hold it for 3 hrs.
That means getting that baby outside every 3 hours, etc. Set your alarm and go to bed in sweats. Believe me, the time goes fast.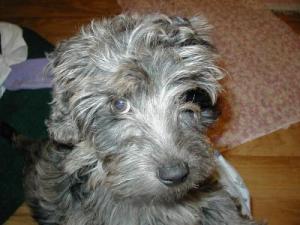 By KELLEY (Guest Post)
July 29, 2008
0

found this helpful
Make sure you have your puppy in is a crate that is only big enough for him lay down in. He should not be able to roam around, because he will try to go to another part of the cage and potty as long as he doesn't have to lay in it. Never put anything in the cage for them to potty on. This causes them to think it is ok to potty in the cage. As soon as you get you puppy out of the cage take them out to go potty. It might take him a short while to get used to this but if you are consistent this will work.
By Julia (Guest Post)
July 29, 2008
0

found this helpful
Go to www.petcomfortzone.com Great products for cats & dogs. I've used Feliway for my son's cat. Calmed her down.
Wall plugin lasts for a month. You may also get these same pet care products at your vet. I save about $3.00 at the vets.

sandy
Bronze Request Medal for All Time! 87 Requests
July 29, 2008
0

found this helpful
maybe the crate is to big for her. let her outside right before bed and restrict water for 30 mins before bed -- of course dont take her for a run and get her purposely thirsty either.

July 29, 2008
0

found this helpful
Generally, dogs will not pee where they sleep. There may be a couple of reasons why he is peeing in his crate. A. The crate is too big for him. Crates should be just large enough for the dog to go in and turn around. Much bigger, and they will urinate in there. B. He didn't go "outside" before bed. Try to make sure that you take your puppy out right before bed. When I train my puppies, I take water away from them about an hour before bedtime and then take them outside right before bed.
It's not cruel to take the water away, you are just trying to prevent an accident. Puppies bladders are very small and can only hold so much liquid. C. Puppy has a bladder/urinary infection. This is rare, but it does happen. If it looks like your puppy is straining, going more often than usual, or there is blood in the urine, take him to the vet.
Good luck! I know how tiresome it gets cleaning!
By (Guest Post)
July 29, 2008
0

found this helpful
A puppy can usually only hold their pee one hour for each month of life. If your puppy is 5 months, he can hold it for 5 hours.

July 29, 2008
0

found this helpful
First take puppy to vet to make sure there is no bladder infection. Irregular peeing is their way of saying something. After that, make sure the crate is not too big. Then, remember the puppy's bladder can only hold so much. I trained all 5 of my dogs by taking them out every 20 min. no matter what.
Normally 15 min. after they eat they want to pee and right after a nap or night. Reward with a treet when they go outside only. Never hit for peeing other than outside. I never have had a problem with peeing in my home with the method of going out every 20 min. and after nap and eating....Good luck..
By carrylyn (Guest Post)
July 29, 2008
0

found this helpful
My pup did the same thing-but he slept in it. I had left the window open when the wind was blowing hard and it scared him for many months following-I did all the above remedies I was consistent-went to the Vet-he grew out of it at 3 yrs old- I got incontinent pads for adults to put in the crate-the earlier frustration became my morning ritual of washing his bed. English Bulldog
By Barbara J Snyder (Guest Post)
August 5, 2008
0

found this helpful
Just make sure that you take the dog outside to do his business before you go to bed now if you sleep late than he might pee again also watch the water intake too. Remember what people said puppies are babies in a way so you might have to get up a bit early to let him out. I go to bed late take princey out and then when hubby gets up he makes sure she goes outside too.
She is not in a crate and she just turned 3 she was in a crate before we got her and she peed too. But praise God she has gone outside sometimes makes an accident but that is ok but not all the time. She is a good dog a bit goofy sometimes but love her anyway.
By Angelo (Guest Post)
August 8, 2008
0

found this helpful
Puppies are babies and they cannot control this at this stage. You can start by cleaning the crate - dogs prefer a clean area. Then start walking the pup every 30 minutes and then play for 15 minutes and then back to the crate. You can then work on increasing the intervals until you reach the 6 hours. Hope this helps.
By PJ Nagaya (Guest Post)
August 22, 2008
0

found this helpful
My pup Russell is 4 months old Golden Retriever. He pees every night in the crate. What's funny is that I got Golden Doodle pup at the same time, and they are same age. But Doodle NEVER potty in his crate. I think its just like us. It's all about the individual. Some things work on some, but never on all.