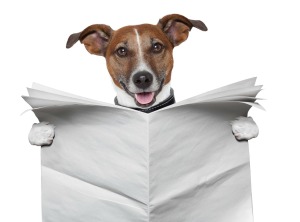 I don't train my dogs to use an actual litter tray, but instead teach them to use a pad of newspaper. It is just as effective for small dogs who mainly live inside as it is for a larger dog who might be housebound or "caught short" when inside. I also recently rescued an untrained 6 year old male Chihuahua and he picked it up in no time.
I start by spreading layers of newspaper all over the tiled bathroom or laundry floor, it's easier to clean up a tiled floor if they make a mess to start. It doesn't have to be bathroom, any small, quiet area is OK. I take the pup or dog to the newspaper several times, especially after a sleep (for puppies). Once they have peed on the paper I remove the messy paper, but leave a sheet of the newspaper there as it has the smell in it. To teach them to poop there I leave one of the bottom layers of paper, no mess, but they can still smell it. After they have the hang of it, over a few weeks I gradually reduce the area of newspaper covering the floor, until they are just doing their business on a pad of newspaper one sheet in size. The newspaper I use is about 40cm x 60cm when opened out.
I found a large plastic tray from an old birdcage, the tray is about 50mm deep and stack the paper in that and leave it in a quiet place in the house and have never yet had to cleanup a mess anywhere else in the house. Prior to finding the tray I had a wooden frame made from timber offcuts, the same size as the stack of paper.
I have 3 Chihuahuas who live inside, but I do let them out on the grass when I'm home. When I have to leave them inside anytime I know I'm not going to come home to a mess. It works just as well with large dogs. Newspaper is plentiful, cheap and doesn't get flicked or scratched around like litter.
By Lois from Qld, Australia

I have a Pomeranian that just turned 5 months old. I have always crated him and then paper-trained him rather than going outside. I just don't want him outside too often and the paper method is convenient for me.
My question is: Is one method (paper training or yard training) better than the other? I just want someone else to voice their opinion or tell me their experiences. Thanks.
By Nelwyn Mills from Bunkie, LA
Answers

Cricket
Bronze Post Medal for All Time! 205 Posts
January 30, 2010
0

found this helpful
Personally I prefer yard training. But that is what's best for me and my dogs. What's best for you and yours is completely up to you.
Have you considered checking into the "puppy pads" that look like squares of grass? My next dogs after the ones I have pass away (I know, sounds terrible to be thinking ahead like that, but mine are both getting pretty old) will be toy size, and I am thinking of using them along with the yard training. Here's the web site for them: www.porchpotty.com/

January 30, 2010
0

found this helpful
I personally prefer yard training as I don't won't my dogs to think that going in the house is appropriate any time. But if you must be away for more hours than they can go, it would make sense to make an area available to them.
Answer

this Question

I wanted to know if anyone has any ideas on how I can potty train my new Pit Bull puppy? He is too little to take outside so I laid out papers all over.
By bellobella from Summit, NJ
Answers

January 25, 2011
0

found this helpful
Hello fellow pet parent. Puppies are never too little to take outside for potty training unless you live on a polar icecap. LOL! As well, laying out potty papers "all over" does nothing to teach your dog discipline in discretionary piddling and pooping. In my opinion, "Crate Training" and a single "just in case" indoor pee pad are your best bets for a Pit Bull's best, successful house training. Paper training (and the far less acceptable "Litter" training of dogs) may indeed work with a miniature or toy breed, but similar situations are few and far between for puppies that will become over ten pounds as your Pitty surely will.
Please do some internet research on "Crate Training" and if you must leave a potty pad indoors as your pup grows, make it just one paper or pad and always in the same place. Otherwise, the puppy will unintentionally learn that he/she can do business anywhere something lies over the flooring (rugs, blankets, throws, books, magazines, etc.) and that won't be pretty!
Something that some don't understand about "Crate Training" is that if taught correctly, it is not a lifetime sentence for the dog to live in a crate when you are gone. All of my dogs "got it" by about age four to five months and never slept in a closed kennel again but continued to enjoy the crate / kennel as their home base "den" (their personal "safe place"). The only indoor accidents any ever had after the first four to five months were due to illness, not misbehavior.
Your puppy may be little right now, but you will not be happy cleaning up Pit Bull messes when he grows up and soils on several "papers" you've left spread about. Please do some research on "Crate Training" now so that you and your pup can have the best life together in the future. Good luck!
Answer

this Question