8 Great Perennial Vegetables
Solutions
Share on ThriftyFunThis guide contains the following solutions. Have something to add? Please share your solution!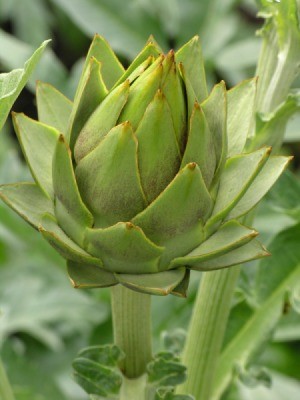 Perennial vegetables sometimes take a year or more to yield a first harvest, but the rewards are well worth your effort. Plant them once and you will have a reliable annual crop for years to come. Try some of these vegetables you plant once and harvest for several years.
Artichoke (Cynara scolymus) is a perennial in zones 9 and warmer. In zones 7 and 8, it over-winters in the ground if mulched. In colder zones, treat artichoke as a tender perennial, digging it up and storing it like a bulb over the winter, or grown it as an annual crop.
Asparagus (Asparagus officinalis) These favorite perennial veggies can produce spears for up to 30 years. For more color and a fruity flavor, add a purple variety to the mix. Asparagus grows well in zones 4-8. In warmer zones they never go into their required dormancy.
Chayote (Sechium edule) This odd-looking member of the gourd family can be cooked the same as you would a summer squash. Give chayote vines plenty of space. They can grow up to 90 feet. Hardy in zones 8-10, the vines will die back where the ground freezes unless protected with a deep layer of mulch.
Horseradish (Armoracia rusticana) These roots are readily grown in most soil types in zones 4-8. In colder zones, over-winter the roots as you would bulbs. Wear gloves when harvesting horseradish. The root contains an oil similar to hot peppers that can burn your hands. This plant can become invasive so plant with care.
Jerusalem Artichoke (Helianthus tuberosus) Also called sunroot or sunchoke, the tubers are planted like potatoes. In colder zones, the tuber can be over-wintered the same as you would bulbs. Grow Jerusalem artichokes where you can control the plants, because they can become invasive.
Nine Star Broccoli (Brassica oleracea) This perennial veggie will produce an annual crop for approximately 2-3 years. They are very vigorous so allow at least 36 inches between plants. Nine Star broccoli prefers well-drained soil. It can grow in semi-shade or no shade, but requires moist soil. The plant forms a small cauliflower head in early spring. When this is harvested, another 6 - 12 smaller cauliflowers are produced on side shoots. Although not highly productive, they are very tasty and the cabbage flavored leaves can be harvested year round.
Rhubarb (Rheum xcultorum) This popular perennial can be grown in zones 2-9, but prefers a climate where winters are cold enough to freeze the ground. The stalks can be cooked and used in a variety of ways. The leaves contain toxic levels of oxalic acid and should not be eaten.
Sea Kale (Crambe maritima -- Family Cruciferae [Brassicaceae] ) Sea kale is not actually a type of kale, but rather a member of the cabbage family. Hardy to zone 6-9, it's been grown since Victorian times for its blanched young shoots. Sea kale prefers full sun and produces its first yield in the third year after planting. Young shoots are blanched by placing an inverted pail or box over the plant. The flavor of the shoots is similar to kohlrabi, and the frilly leaves taste similar to a strong cabbage.
Related Content