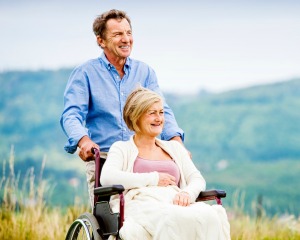 My sister has severe tremors. What kind of activities exist for her that don't require the use of her hands because they shake too much. She just sits on the couch all day and I want to get her active instead of just waiting to die.
By Paul
Answers

DCA
Bronze Answer Medal for All Time! 220 Answers
February 13, 2015
1

found this helpful
You can contact the National MS Society for help for your sister. There is information on how to live a better life with MS that may help your sister. Also, you might consider taking her to a rehabilitation center (the society can help find one for you) to help her live a better life. The site:

June 25, 2015
0

found this helpful
Is there a very nice neighborhood or park with trees near you? You could just drive her there, park, then take her for a walk a couple of times a week.
Is there someone from a local charity who will volunteer to read out loud to her? She could sit on the porch or patio.
Does your library have a multimedia room with audiobooks and headsets? Another destination place.
Yard saling in summer can be fun. Do only as many as she can handle. Dig through boxes for her so she can see the stuff. You don't have to take much home.
A picnic once a week would be nice during good weather. Pick a shady spot. You can pack food or stop by the deli. There needs to be a place nearby where understanding people will let her use their handicapped restroom.

July 15, 2017
0

found this helpful
Does shee enjoy tv or watching videos? Try audio books. I would try together out at least every other day for a drive. Is there a museum near by that you could visit? Does she have a wheel chair for outdoor use?
Friends who could come visit weekly? Perhaps you could arrange different people to come at different times. Can you take her out once a week or every other week to get her hair done?
Answer

this Question
I have MS. I can stand, but not walk. I have the use of one hand. My husband would like to take day trips. Sometimes we take the bus to a casino. What is there to do? Beaches, swimming, hiking are out.
By Deanna
Answers

August 26, 2014
0

found this helpful
Deanna, a lot depends on the restrictions of your mobility. Most places are handicap accessible. Museums are generally very accessible. What about an overnight to a casino and staying off-site at a local hotel, they are usually full of alternate ideas for their visitors and would certainly know which ones could accommodate you.
Taking in a ball game is usually easy for someone with limited mobility. Driving tours are also available. You are only limited by your imagination. Good luck.

Darla
Bronze Feedback Medal for All Time! 189 Feedbacks
August 27, 2014
0

found this helpful
Maybe you could drive to a scenic spot and have a picnic & just enjoy nature. Sometimes there are outdoor concerts too. Not sure where you live or what your weather is like.
Answer

this Question