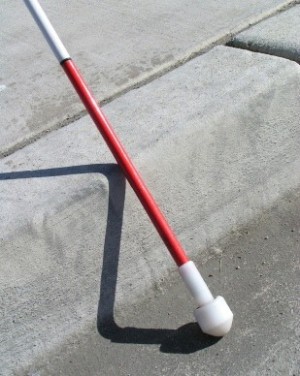 Ten Questions You Always Wanted to Ask a Blind Person But Were Too Shy to Ask:
What do I see? This is a question I get a lot. I never mind answering it. Blindness comes in a wide variety of degrees. Some people have no sight at all. I can see light, shadow, and movement. Everything looks dark and blurry to me, though. If you're familiar with the "Lord of the Rings" movies, you probably know what I mean. I see the way Frodo sees when the ring is on his finger. Or, think about old movies set in London. ("It was a dark and foggy night.") Sometimes, more often now than even a few months ago, I can tell if a color is bright or intense. Red tones are fairly perceivable to me, don't ask me why. My color vision is far from reliable, though.
Do I watch TV? In a word, yes. As folks used to do when radio was in its heyday, I fill in the blanks using my imagination. I prefer programs without a lot of background music that covers ambient sounds. I tend to enjoy talk programs more these days than anything else. Also, Jeopardy is, and always has been, my #1 favorite program. It keeps my mind sharp. I had to give up Wheel of Fortune; I can't see the puzzle anymore, darn it!
How do I match my wardrobe? I was more or less sighted most of my life (my vision has always been poor,) so I know what colors look like. I also know most of my wardrobe because I've had most of it for some time. If a sighted person can give me an idea of the color of a new item, I can make an educated judgment of what matches. For folks who've never had sight, there are tools available that will identify colors. Another strategy I use is to hang matching outfits together. On "lazy days", t-shirts and jeans are easy.
How do I know which way clothes go on? You may never have noticed, but most clothes have tags and seams in the same places all the time. During my early days of orienting to my vision loss, a specialist worked with me to help me learn the right way to put everything on. Now my method is second-nature to me, just like it is for you.
What about hairstyles and shaving? I've never been a slave to fashion, so a simple braid suffices to keep my hair out of the way. I braid it myself, just like I've done all my adult life. Sometimes I ask help trimming my nails. Other times I manage, if not perfectly, then at least sufficiently. I brush my hair and teeth just like you do, but without watching myself do it like you might. Shaving can be trickier, since I have to remember where I left off, lol! I use a regular razor, though, just like anyone else. I rarely cut myself - no more often than you might. A visually impaired man I know prefers an electric razor. To each his or her own, I suppose.
How do I know where I am? For any blind person, correct orientation is the key to avoiding disasters. That's another area where familiarity is an advantage. I live in the same home where I lived before I lost my sight. I know it very well. I'm also a quick study, so can readily learn a new environment provided it isn't too complicated. If I walk into a new environment and a sighted guide gives me a quick mental picture of the space (chair straight ahead, kitchen door a couple of steps ahead and 90 degrees left, etc,) that's a great help. Please remember to warn me of obstacles too, thanks!
Why don't I run into things? I do, actually, you just don't see me, lol! Again, because I've lived here awhile, I know where things are. Inattention is the most likely culprit for mishaps within my home. Other likely culprits are sighted folk who move things around and our spoiled dogs who are prone to forget I need maneuvering room.

What about money? Coins in the USA are relatively easy to identify, because there are obvious differences in size and weight. Additionally, some coins (quarters and dimes, for example) have roughened edges. Paper money is tricky. That's why I'm grateful for hubby, my sighted guide and helper. He identifies bills for me. Any trusted person can do this task, though. Once the bill has been identified to me, I've developed a system of folding so I'll know the difference without having to ask again. If you've seen the movie "Daredevil" with Ben Affleck, that'll give you an idea. There are tools that can identify paper money, but I don't own one.
How do I read the mail? I don't, actually. Hubby faithfully reads the mail to me. I could use the scanner in my multi-funcion printer in its optical character recognition mode, but that's too slow and clunky for me. For leisure reading (I'm a lifelong bookworm), I have Talking Book machines. More about my tools in another article.
What about cooking? Believe it or not, I'm not a bad cook. I usually use the same basic items a sighted person would, like oven mitts. (They're easier for me than potholders.) I also have a few "blind-friendly" kitchen tools that help me be safe and make my "non-blind-friendly" stove and microwave controls accessible. I remember recipes for a lot of things, like the round steak I made hubby for Father's Day. When necessary, I draft sighted assistance, especially for reading long recipes. Cans are really tricky. I usually have sighted assistance so I don't end up with green beans instead of peaches, but I also have an audio labeling tool.
Hope these little articles of mine are opening a new world to you - the "blind side" of life, lol!

By Lelia Jo Cordell from Springfield, OH

Answers:
Ten Questions You Always Wanted to Ask a Blind Person
Thank you for this interesting article, I really enjoyed it. when I was a young child we had a family friend who was blind, he would go out on his boat fishing, and also reroofed his whole house, as a child I wondered how he managed so well. I do not know if he had some sight or not but I do remember that everything in their house (he was married) stayed in the same place always. (07/02/2010)

Ten Questions You Always Wanted to Ask a Blind Person
Very interesting article. My Grandpa was blind and when we would go to visit them he would always feel our hair and face to see how we had grown since the last time we had been there. I always thought it was so cool the way he could tell a one dollar bill and a five dollar bill. But later found out he had pulled a good one on us kids. My aunt had folded them so he could tell which was which. Thank you for bring back some wonderful memories. (07/02/2010)

By Cindy
Ten Questions You Always Wanted to Ask a Blind Person
I wanted to write you a note to thank you for writing on this subject. I too get those questions a lot. I am not blind, but have less than half the sight of a seeing person due to a brain tumor on my optic nerve in the brain. I underwent 3 brain surgeries for the removal of the tumor back in Chicago, IL 20 years ago. my sight is best described like this: get a sheet of paper and dot it wildly with a pencil all over the paper until filling half the sheet with the dots and then look at it and whatever white you see on the sheet is my sight. The black dots is all the sight I lost due to the tumor and the surgeries. It is difficult to see everything at once for me, but with time and alot of patience I can eventually see the whole thing. I had lost all my vision by the 3rd. surgery but thank God I regained some of it back. but, I am grateful for what I have.
I tried to get handicap status but the judge who was on my case didn't agree, because of that I wasn't able to be helped with any kind of therapy because of my lack of money and insurance and ability to move around on my own.
Thanks for your post.
Rosa Gonzalez, Las Vegas, NV (07/02/2010)

By Rosa
Ten Questions You Always Wanted to Ask a Blind Person
What an interesting article! And yes, it did answer a lot of questions that I, myself, have wondered over the years but felt it was impolite to ask. This does open up a whole new world into the life of the blind. Thank you for writing this! (07/03/2010)

By Cricket
Ten Questions You Always Wanted to Ask a Blind Person
Thanks for sharing. (07/03/2010)

By tahlula
Ten Questions You Always Wanted to Ask a Blind Person
Jo,
So interesting! I notice that you didn't whine once. There's a lesson for us all there.
On your next article, could you explain more about how new technologies have made life for the blind less difficult? And thanks for broadening our knowledge.
Susan in Omaha (07/03/2010)

By Susan M.
Ten Questions You Always Wanted to Ask a Blind Person
Jo, thanks again for more insight. Keep em coming. (07/03/2010)

By Keeper
Ten Questions You Always Wanted to Ask a Blind Person
Jo-There is nothing "just plain" about you! Thank you for opening our eyes to your world. I do have one question I have always wondered about, if a person is born blind, what kind of dreams do they have at night? Since they have no actual visual input, are they more sound based, tactile, or because they have no visual absolutes, are their dreams just free to totally wander (as most dreams do anyway). A long time ago when I first asked this question, I was writing a short story, never could get an answer, now with your kind help maybe I can. Thank you. Pam nwpjred@yahoo.com (07/03/2010)

By Pam Hanna
Ten Questions You Always Wanted to Ask a Blind Person
Wow, I found this very interesting! Thanks so much! God Bless you and your hubby! (07/03/2010)

By melissa
Ten Questions You Always Wanted to Ask a Blind Person
Wow, thanks for the great feedback so far. I love it! Keep it coming!
Ya know, it never occurred to me to ask what a totally blind person's dreams are like. I'll get back to you on that, k?
And I promise, my next article will be about some of the tools that have made my life easier. Keep watching for more from "the blind side," lol! (07/03/2010)

Ten Questions You Always Wanted to Ask a Blind Person
Thank you for answers that we all have been curious about. Mine is wondering if a blind person when going on vacation has there family members taking photos of there trip? I would think a tape recorder taping the sounds of a trip would be more of use and fun for that blind person because you could tape sounds of the roller coaster ride as it goes down or the music or voices in a play, no one ever says at a vacation place to not record the sound they just say no pictures. I also wonder if a blind person is afraid of heights? Thank you again Have a great summer. (07/03/2010)

By Julie
Ten Questions You Always Wanted to Ask a Blind Person
Thank you so much for sharing this. I have often wondered how someone that is blind can manage so well. It's marvelous. (07/03/2010)

By littergitter
Ten Questions You Always Wanted to Ask a Blind Person
Seamstress, I can't speak for all blind people, but I'm only mildly freaked by heights. It's the feeling of emptiness more than the visual, and always has been, for me, at least.
And frankly, I'm only as good as my sighted assistant at some things, lol! My adaptive technology helps me a lot, and I'd have more gadgets if I had the money to buy them and someone to teach me how to use them. Specifically, I'm yearning for a tool called a talking color identifier. I'm mismatched today thanks to hubby, guys just aren't color-conscious!
Oh, yeah, someone mentioned the lack of whining? I learned early on, whiners are no fun! I know a couple of real whiners and avoid them like the plague. My positive attitude gives people a smile, and that's a good thing. It's so much more fun to smile! (07/04/2010)

Ten Questions You Always Wanted to Ask a Blind Person
I am just so happy to have read this article! What a blessing you are, thank you so much for sharing this with us!
Blessings, :)
Robyn (07/05/2010)

By Robyn Fed
Ten Questions You Always Wanted to Ask a Blind Person
Thank you very much for answering questions sighted people have wondered about but were shy to ask, you answered them with great understanding and humor, and now have many, many Thirfty-Fun fans! God Bless! (07/05/2010)

By Caseye
Ten Questions You Always Wanted to Ask a Blind Person
I learned a lot from you Jo and it brought to mind of an elderly blind man who rented canoes years ago for the lake in our county and I was amazed how he was able to give people back appropriate change. Folding the dollars differently had to be the way he did it and now my years old pondering is resolved thanks to you. (07/05/2010)

By Myrna
Ten Questions You Always Wanted to Ask a Blind Person
Thank you for educating us. This was fascinating to read, and it's good to know that you have a devoted husband who's a willing and eager helpmate! (07/06/2010)

Ten Questions You Always Wanted to Ask a Blind Person
Thank you for your wonderful and informative post, you are truly an inspiration! (07/07/2010)

By Darla
Ten Questions You Always Wanted to Ask a Blind Person
Thanks, everyone, for your uplifting feedback. WildIrish, I thought I was the helpmate, lol! Scooterrhea, I'm, um, not trying to be an inspiration. I'm just trying to educate those who honestly want to learn what a blind person goes through. Thanks for the compliment, though.

Also, I have yet to get the answer about what a lifetime blind person's dreams are like, sorry about that. I have my monthly NFB (National Federation of the Blind) meeting next Saturday, though, and I'll keep working on the question. Looks as if this article will also have a sequel, lol! Thanks again, everyone! (07/17/2010)

The Blind Dreaming Experience
Hi, I thought I'd leave this here, since it was on this thread the original question was posed. I asked the two ladies I know who were born blind, whether there is any visual aspect to their dreams. Their answers were the same: since they've never experienced sight in waking, they have no visual aspect to their dreams. As in their waking, their dreams' sensory input centers on their remaining senses.

Since I had sight until 7.5 years ago, I still see in my dreams. My vision in my dreams is, of course, better than that in my waking life. However, as my visual memories fade somewhat, the visual aspect of my dreams becomes less vivid.

Hope this answers your question. I'll try to remember to include this info in a future article, too. (07/25/2010)