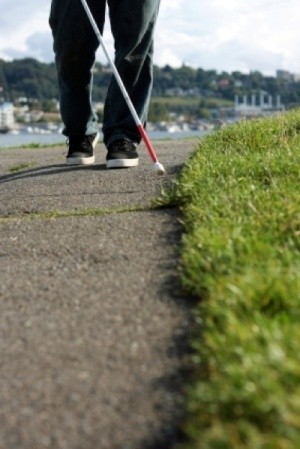 Here are just a few things I've learned over the last eight years since I lost my sight:
Never Give Up - Never Surrender! I know this quote from "Galaxyquest" is cheesy, but it's my motto. There's something in me that simply refuses to give up the fight. My sister knew I'd live after my near-fatal car wreck, even before I awoke. She said I was just "too stubborn to die," lol! She was right. I didn't stop there, either. If I'd given up, I'd still be sitting in my armchair staring at my TV and letting others do for me as if I were a toddler again. I couldn't do that! When many people (including my own hubby) were saying "can't", something in me rose up and said, "I'll show them!"
Attitude is Everything I firmly believe my positive, can-do attitude is partly responsible for the progress I've made. Yes, I've had down times, bkp[ut living with joy in your heart and a ready smile is so much more pleasant!
Orientation is Key It's embarrassing to admit I've been lost in my own bedroom more than once early on, lol! But once I memorized the room's layout, navigating was much easier. I quickly extended the principle to my entire house and worked out from there. For example, I easily navigate the main and upper floors at my church. One other orientation-related lesson I learned early on was to make sure there's a chair behind you before you sit. That lesson alone has saved me untold embarrassment.
Adaptability Helps I've had to make a lot of adjustments in these last eight years. Not least of these was changing my basic learning style from visual to audio. It hasn't always been easy, but is definitely doable.
Minimize What's Lost, Maximize What's Left My Orientation-and-Mobility (O and M) specialist taught me not to rely on my residual vision. This went contrary to what the other "specialists" said, but I quickly discovered the wisdom in it. Since I "see" shadows as or more clearly than solid objects, I now rely on other senses to verify what my limited vision tells me. For example, I can usually not only pinpoint where something has been dropped with fair accuracy, I can often tell what was dropped. I can also tell within a couple of bites of dinner, what spices have been used in the dish. You'd be amazed at the amount of information you can gather without using your eyes!
Simplify Your Life Having too many choices confuses me. Having a cluttered environment makes it hard to find what I need and can cause accidents. Recently hubby caught grief from me for absent-mindedly setting his full milk glass on the edge of the counter, where I spilled it reaching for something else. Decluttering isn't always possible, but at least keeping a safe walking path and some relatively clear counter space is vital to any blind person. Even toddlers are old enough to learn to pick up items that present tripping and spillage hazards.
Question Policy When Necessary The Americans with Disabilities Act (ADA, instituted in 1990) makes it illegal in many contexts to discriminate against a person on the basis of disability. However, blind people still face overt and covert discrimination every day. Sighted people insist on keeping blind folks in their little "disability box" even when those folks could do well in most circumstances. I commend the Army for permitting Captain Scott Smiley, an officer blinded by an explosion, to continue in his post. That man is a shining light for many wounded warriors just by his presence. Now, why can't more companies have that kind of attitude?
Be Patient With "Normies" I have a friend who uses this term to describe anyone non-disabled who tries a little too hard to "help." It isn't nice, but it is apt. It's frustrating and saddening to realize how low others' expectations are, not just for me, but seemingly for any physically disabled person. I've even had people act very impressed that I'm capable of brushing and braiding my own hair. Good grief, what did they expect? If someone is going to insist even when I don't need help, I usually smile and bear with them in their ignorance. I can and have explained later. It delights me to demonstrate just how much even a relative newbie to the blind community can do. People who've been blind longer can function much better!
Laughter Heals It's been scientifically proven that laughter has multiple positive effects. I know that's true - I laugh at myself often enough! People look at me strangely, but eventually loosen up enough to laugh along. I love that!
Faith Strengthens I won't push my religious views on anyone - it's a very personal choice. I will, however, say my own faith in God has kept me strong in the face of many challenges these past eight years. Faith has given me the strength to try and keep trying. Prayer gives me a much-needed outlet. Sometimes I vent and whine (who doesn't?) Sometimes I crow, lol!

By Lelia Jo Cordell from Springfield, OH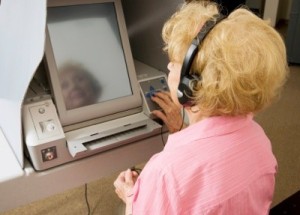 Here are a few more things I've learned over the last eight years since I lost my sight:
1. Get Training Early
I foundered for months until a cashier at our local Save-a-Lot mentioned the Bureau of Services for the Visually Impaired (BSVI.) Since my goal was to get back to work, they were willing to get me some "personal adjustment" and other training. To my knowledge, every state has an organization like the BSVI to serve the needs of the blind.
I know a lot of people are impressed with my abilities today, but it's been a long road. I think I could be doing better. If you're losing your sight and you know it, ask your ophthalmologist or regular doctor how you can get training. You can also call the national Information and Referral service at 2-1-1. If they don't have the right number, perhaps they'll be a first step toward getting the right one. You may also want to contact the National Federation of the Blind (NFB.) The national office is in Baltimore, MD. You can call 410-659-9314 with any questions. You can also email the national NFB President, Dr Marc Maurer at pmaurer@nfb.org. You'll be better off if you learn how to do things by non-visual means before you lose too much sight.
2. Be Ready To Figure Things Out For Yourself
No one really taught me how to fold paper money so I could identify it without help. I use a system I devised. If it's different from someone else's, so what? It works for me. Money isn't the only thing I've had to figure out for myself these past eight years. For example, I brush and dress my hair and butter my toast by a combination of visual memory and touch.
Another example is the tactile marks on appliances and such. Since I learned certain tactile symbols, I tend to echo them when I have a helper mark other items. Perhaps my techniques parallel those already established in the blind community, perhaps not. I've never asked. If one option doesn't work, try another until you find what works for you.
3. Be Prepared To Adapt On A Budget
I use mostly standard tools, sometimes with minor adaptations to make them more accessible to the blind. For example, I asked hubby today to mark his inaccessible cell phone so I'd at least know where to press to turn it off or answer a call.
4. Begin With Familiar Tasks
When I began trying to do more things myself, I had to think what was most familiar. If you were a good cook, you might want to start in the kitchen. (Remember safety, though.) If you were a "super-geek" as I've been for 20+ years, start there. In short, find your strengths, develop (or redevelop) them and branch out from there.
5. Be Bold, Be Brave
It was really hard for me to be brave for the first several months after I lost my sight. It isn't easy to be brave when you can't see what's around you! As I've adjusted and learned new ways to "see" what's around me, that fear has faded. Ironically, the loss of my sight also cured me of my lifelong fear of the dark, lol!
6. Avoid the Couch Potato Trap
I tried the couch-potato thing for a few months. I got bored with it pretty quickly. With some help and training, I soon discovered a variety of things I could do besides "veg" in front of the "boob tube." I won't name them here - the list would be too long!
7. Keep your Mind Sharp
I've been a Jeopardy addict for years. I still watch six nights a week if I can get it, and that includes Saturday reruns. The fast pace and difficult questions really get my brain moving! If Who Wants to be a Millionaire is your thing, go for it! You can also do any other game that sparks your fancy. Do anything to keep your mental faculties sharp, or sharpen them if they haven't been exercised much lately.
8. Retain Your Right to Vote
I've been a registered - and active - voter since I turned 18, about a zillion years ago, lol! I refuse to let a little inconvenience like blindness stop me from claiming my right to vote. Thanks to the NFB and the Help America Vote act, my precinct has an Automark electronic voting machine. Every voting precinct should have one. If yours doesn't, contact your local Board of Elections. The Automark scans my ballot, reads and marks it for me. Then I take it to the tabulating scanner just like everyone else. When representatives from our local Board of Elections brought an Automark to a recent NFB meeting, even I learned something new - now I know how to write in a candidate, if the need ever arises.
9. Be An Information Sponge
The information-gathering issue sort of goes hand-in-hand with the voting issue. I keep up with local events and educate myself on national issues and can be a more effective voter via a variety of avenues. I regularly watch both local and national news. I read my local paper thanks to my free subscription to the Ohio Telephone Reader, a division of the Radio Reading service. I'm on Facebook – although I've found the Mobile site works better with my screen-reader. Several of my Facebook friends post items of interest. If all else fails, I go to my favorite search engine, dogpile.com. I like it better than Google for three reasons: first, dogpile.com pulls together information from more than a dozen other search engines. Second, I remember the cute beagle mascot, lol! Last but not least, Dogpile.com is also much easier than Google for my screen-reader to translate. That's important to me.
10. "You Catch More Flies with Honey than Vinegar."
This is actually a lesson I learned from my late mother years ago. An abrasive, demanding, argumentative personality just doesn't encourage people - whether friends, family or strangers - to help you when you're really in a pickle! "Please" and above all, "thank you," go much farther. Even when I was still in the nursing home and completely dependent, I used the manners Mom taught me. The aides and orderlies were surprised at first, but I know they appreciated it. I think I got better treatment as a consequence.
I hope these little peeks into "the blind side of life" are enjoyable and enlightening. I welcome all feedback and never mind questions!

Source: Personal experience, learning how to "be" blind in a sighted world.
By Lelia Jo Cordell from Springfield, OH