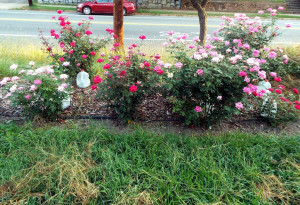 A couple of times in other posts, I mentioned starting a rose bed on a hill at the upper end of my property. Sadly enough, this is it.
Except for two, I rooted all these roses. I do feel good about that. Most everything else is a tale of woe.
At first, the weather was so dry, I kept a gallon milk carton with a tiny hole in its bottom, at the base of each bush. Daily, I filled these jugs with water, adding dilute fertilizer every two weeks. As you can see, I never removed the jugs.
I did lose a couple of the bushes, that's to be expected. But it's no big deal, as I always have a reserve supply. It's a shame I can't give them away.
Things went pretty well for a few weeks, and then the rains came. For a long time, it was so wet I couldn't mow. With the grass near knee high, I had to hire it mowed with a riding mower. It does look pitiful.
And what with so many other things going on at my house, I haven't even gotten around to deadheading the bushes. What can I say, every day can't be Sunday. You gotta take the bad with the good.
I was expecting to show my fellow members a glorious display. A huge rose bed filled with red and pink double Knockout roses. Maybe next year. It's not the end of the world, though. Some good things have been going on.
While I have lost several other hybrid roses as a result of so much rain (and my negligence), these Knockouts just keep plugging away. They will bloom some from spring through fall with little or no help from you. They are actually that care free. But, If you want a massive display during all that time, as with any other rose, you will be doing a lot of feeding, watering, and dead heading.
The two bushes I did lose were not lost as a result of disease. To date, I've seen no sign of disease on any of my Knockout roses. That's remarkable, especially in light of the fact I lost so many others this year to damp and wet loving pathogens.
Well, there will always be next year. And if I'm still around, I just might be able to show you that larger and much better kept bed filled with these double red and pink Knockouts. Waiting can be a good thing. We always need something to look forward to. (Poor grammar intended).