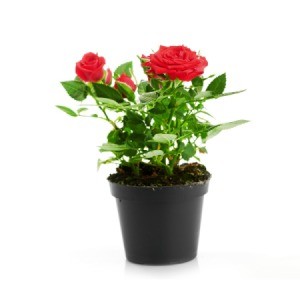 Question:
My husband bought me a potted rose bush with baby roses on it. It is, of course, in the house, as we live in Iowa and it is WAY too cold to put outside. My concern is that it is dropping almost all of it's leaves. Not sure why. They just seem to be drying up and dropping off. I try to keep it watered, but maybe I'm not enough? Maybe too much?
Also, the rose buds that had not opened when I got it have dried up and definitely will not be opening up now. This is my first rose bush and I really want it to survive. Can anyone give me any tips on how to properly care for it? We keep our house fairly cool, at 60 degrees, but according to the information on the pot, they grow best between 60 and 80 degrees.
I am also keeping it where it can get the best benefit of the sun. My house isn't super light, but it's not dark either. I keep it in front of windows, but several feet back from the window so it won't get too cold. Thanks ahead of time for any advice anyone can give me.
Robin from Washington, IA
Answer:
Indoors, miniature roses require the same care as they would outdoors. They need lots of sunlight, slightly moist soil, adequate fertilizer, and a fair amount of humidity (tough with dry winter air) to grow successfully. Nearly any type of rose can be grown in pots, but in general, miniature rose varieties do best because of their compact growing habits.
The most common reason roses fail is improper watering. If buds and flowers start to look dry and shriveled, and leaves are suddenly dropping, the plant is drying out and should be watered immediately.
The best way to water is to place the pot on a tray and water from below the foliage. When water runs freely into the tray, stop watering. Allow the water to drain into the saucer for a few more minutes and then dump any excess water that remains in the tray. Never let the pot stand in water. The goal is to keep the soil slightly moist, but NOT wet.
Yellow leaves can be a sign of too much water or not enough light. If your pot came wrapped in foil, remove it so excess water can escape and move it to the brightest area possible (preferably a south-facing window). If you can't provide it with at least 5 hours of direct sunlight a day, you might want to consider supplementing it with an artificial grow light until you can get it into the garden. If you think you may have over-watered, let the soil dry out before resuming watering, and remember that with fewer leaves, it now needs less water.
At 60F, temperature is probably not your problem. Humidity may be a factor, as miniature roses do not like warm, dry air. Setting the pot on a pebble tray filled with water will help keep the air around it more humid.
Keep in mind that roses forced to bloom in the winter will be difficult to keep looking good until spring if kept indoors. This does not mean they will be lost, it just means that they may not look the greatest by the time spring rolls around. If your rose bush has lost many leaves, you may want to cut it back to about 2-3 inches, or to the point where you see a healthy, green-white stalk. New growth should reappear in 6-10 days.
Good luck!
Ellen
By Susan (Guest Post)
February 25, 2008
0

found this helpful
Top Comment
Hi, have you try banana peels ? My roses were in misery a couple months ago because of the rain and lacked of sunshine. Then I fed them banana peels (just planted the peels in the soil), only a few days after that, they grew some new leaves and new buds too.
I water my roses every 2-3 days, only when the soil looked dry (my potted roses are protected from the heavy rain). Maybe your roses have too much water since they stay indoor and the soil need more time to get dry, they also need good air circulation.