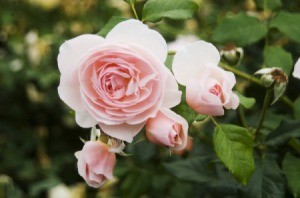 Question:
I have 4 rose bushes and I'm having trouble with brown leaves. Most of the leaves are green but, then I find on every bush some brown with white power looking stuff. The new growth the leaves are a yellow/green color. I live in AZ. Could it also be the heat? Also, every summer my front yard has 1 brown spot, what is this from?
Hardiness Zone: 9b
Gepe from Queen Creek, AZ
Answer:
The powdery white coating on your roses' leaves sounds like powdery mildew. This is a common disease of roses that attacks the buds, causing deformed blooms and eventually weakening the plant.
The mildew initially forms on young leaves and then spreads to older leaves and buds. You'll need to remove the affected leaves immediately and start a program consisting of weekly sprayings of sulfur or a 50/50 mix of milk and water.
The brown spot in your yard could be something similar to Spring Dead Spot. This is a crown, root and stolen rot of dormant grass caused by a fungus. Affected lawns recover slowly over the course of the summer, but if left untreated, the disease will develop the following spring in the same spot, growing slightly larger every year.
A fungus moving in means that area in your lawn is unhealthy. Aerate the area to encourage the growth of healthy bacteria, followed by reseeding the area. If you use fertilizer, you may be using too much. If the problem persists, try applying a fungicide made especially for Brown Patch or Spring Dead Spot in the late summer or early fall when the fungus is most active.
Ellen