Buying Rose Bushes
Solutions
Share on ThriftyFunThis guide contains the following solutions. Have something to add? Please share your solution!
This article was originally published in 2007. There are many more All-American Rose selections, but these are still winners.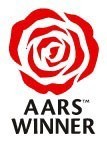 Founded in 1938, the All-American Rose Selections (AARS) is a non-profit association made up of rose producers and growers dedicated to introducing and promoting exceptional roses to the gardening public. This year's winners include a classic grandiflora named Strike It Rich, a vigorous floribunda dubbed Moondance, and a hardy, old-fashioned shrub rose called Rainbow Knock Out®.
What Makes A Winning Rose
The AARS recognizes that gardeners can find growing roses intimidating. That's why each year's winning selections are based on their ability to perform for the average gardener. Rose varieties are grown in 20 official test gardens throughout the United States over a span of two years. The roses receive only as much care as would be given in the average home garden. Judges then evaluate how each variety performs based on the set of criteria that gardeners say is most important to them when growing roses:
vigor
fragrance
disease resistance
foliage
flower production
growth habit
bud and flower form
opening and finishing color
stem
overall value
If you're interested in growing roses, or just adding another variety to your collection, this year's winning selections will available in nurseries (and some catalogues) in time for spring planting. AARS winners are easy to spot with their distinct winners emblem.
Growing Strike It Rich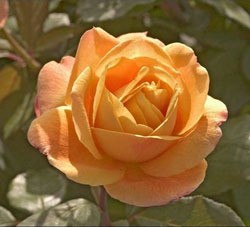 Grandiflora varieties like Strike It Rich have the wonderful free-flowering habit of floribunda, combined with the flower form of hybrid teas. The long-lived double flowers of Strike It Rich are a deep blend of gold, orange and red, off-set by deep green leaves on long red-colored stems. This rose is said to be the 21st century version of the classic 1950 AARS winner, Sutter's Gold.
Class: Grandiflora
Habit: medium tall and bushy
Disease Resistance: excellent
Hardiness: Zone 5, Zone 4 with winter protection
Bud Form: long, pointed and elegant
Flower Color: deep yellow-orange, swirled and kissed with just a touch of ruby red
Flower Size: 5 inches
Petal Count: approximately 30
Fragrance: strong, sweet spice and fruit
Growing Rainbow Knock Out®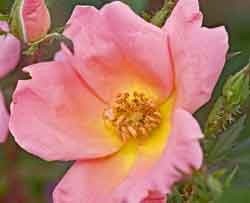 Beginning gardeners will appreciate the disease resistant Rainbow Knock Out®. Like most old-fashioned roses, this hardy shrub rose will perform well in almost any home garden with minimal care. Birds visiting the garden will also appreciate a nice display of rose hips late in the season to compliment the late fall blooms.
Class: Landscape Shrub Rose
Habit: bushy compact round; very abundant, will bloom year round in milder climates
Disease Resistance: fully resistant to black spot, powdery mildew and rust
Hardiness: Zone 5, Zone 4 with winter protection
Bud Form: pointed
Flower Color: deep coral pink with yellow center finishing to a light coral
Flower Size: 2 inches in diameter
Petal Count: approximately 5
Fragrance: no flower fragrance, but the petioles emit a sweetbriar smell of moss roses when slightly pressed
Growing Moondance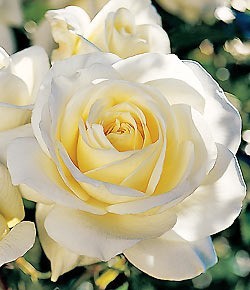 The Moondance is extremely tall, well branched and a vigorous bloomer. Its large, creamy white flowers and glossy, dark green foliage makes it a lovely choice for moonlit gardens or as a stunning backdrop for more brightly-colored flowers.
Class: Floribunda
Habit: upright, well branched; vigorous and tall
Disease Resistance: excellent
Hardiness: Zone 5, Zone 4 with winter protection
Bud Form: pointed and oval shaped
Flower Color: white
Flower Size: 3 &frac;-inch diameter
Petal Count: approximately 25
Fragrance: moderately spicy
March 13, 2012
0

found this helpful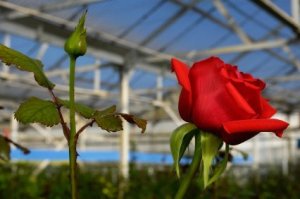 A gardener's first rosebush is often an impulse buy. The picture and promise of colorful blooms on the tag draws you in, and before you know it you're on your way home from the store wondering where you are going to find space for it. Growing roses doesn't have to be difficult, but it can be a frustrating experience if it turns out that the plant you buy isn't suitable for your garden. Here are some helpful tips for purchasing rose plants that will give you the best chances for success.
Consider Your Requirements
Location: Where in the garden will you plant your new rose bush? Do you want a tall, bushy plant; a short, compact variety; or a rose plant that climbs?
Maintenance: Roses require lots of sun (6-8 hours each day) and lots of water. Beyond the basics, certain varieties are known to require more care. Are you willing to prune, fertilize and spray for insects and disease several times per year? Are you willing to provide extra protection from summer heat or winter cold?
Fragrance, cut and color: How important is fragrance to you? Many of today's modern roses have sacrificed fragrance in favor of larger blooms. Would you like roses for cutting and bringing indoors, or roses for display in the garden?
Shop Locally
Shopping for rose plants locally allows you to inspect the plants before you buy them. They may be offered bare root or potted. The advantage to potted roses is that they are easy to keep until you are ready to plant them. Look for green, plump, and firm canes with healthy foliage. If the canes appear shriveled or dry, look for another plant. If you can, inspect the root system closely. It should be sturdy and fibrous and contain several firm, well-branched roots.
Find a Reputable Nursery
The best place to shop locally is at a reputable nursery where the staff can tell you which cultivars grow most successfully in your area. Starting with varieties that are safe bets will reduce the risk of loss and let you gain confidence while you cultivate new gardening skills. As an added advantage, many nurseries also offer guarantees on their plants and will replace them if they fail to survive the first year.
A warning about big box stores: The bargain roses you find at big box store may or may not be hardy to your zone. That isn't to say that you're doomed to failure if you plant them, just be prepared for a much higher rate of loss-even if you take extra care to plant them in sheltered locations and give them extra winter protection. Packaged rose plants are often given a wax coating which helps prevent them from drying out during the loss process of shipping and distribution. Unfortunately, the canes treated with wax have a tendency to die back and the wax makes it more difficult for the plant to break dormancy.
Shopping Mail-Order Catalogs
There are many mail-order catalogs and online garden retailers that sell rose plants. If you garden in a colder climate, make sure you select varieties that are rated specifically for your hardiness zone and steer clear of vague descriptions like "cold-tolerant" or "winder hardy". Plants that are shipped by mail should be rated as "dormant, two-year-old, #1, field-grown plants" (see rose ratings below). Because you can't inspect the plants in person, pay close attention to the company's shipping and return policies. Most companies will automatically ship at the best planting time for your area early spring for cool climates, early fall where winters are mild, and winter in very warm areas. Many also offer replacement plants or a money-back guarantee if the plants fail to perform as advertised within the first year. Unless you order miniature roses, your roses will probably be shipped as dormant, bare-root plants (no soil around them). As soon as they arrive, soak the roots in water for 24 hours upon arrival, and then either plant them or wrap them in damp sphagnum moss until you can get them into the ground (within two weeks).
Rose Ratings: According to the official standard, roses that have been budded onto rootstock must be designated a grade of #1, #1 ½, or #2. This rating should be printed clearly on the package of any rose you buy. A #1 grade rose means the plant has at least three vigorous canes that are at least 18 inches high (15 inches for floribundas). Generally speaking, you should always buy #1 grade roses. Their canes and roots will be bigger and better developed than the lesser grades. A #1 ½ grade will have fewer canes but may still be an acceptable choice. Roses with a #2 grade are generally considered weak and inferior compared to others. It's important to note that this rating system does not apply to roses grown on their own roots. They are not required to meet such grading standards. Two other professional designations to look for are endorsements on the packaging by the "AARS" (All-American Rose Selection) or a high rating on a scale of 1 to 10 by the American Rose Society. Although these recommendations generally signal a variety that has been a proven performer, it does not mean that it will automatically perform well in your garden or climate.
Questions
Ask a QuestionHere are the questions asked by community members. Read on to see the answers provided by the ThriftyFun community or ask a new question.
August 6, 2012
0

found this helpful
Where can I purchase the Ellen rose?
By Ellen from San Mateo, CA
Answers
August 13, 2012
0

found this helpful
I googled "Ellen Rose plant" and found many informational links. Some were even in California. Try it yourself. Large hardware/garden stores like Home Depot, Lowe's, and OSH usually have many varieties of rose. You might also try these people, they sell by mail order and have been in business all my life. http://www.jack .aspx?c=JP-Roses
August 13, 2012
0

found this helpful
Have you tried the Burpee Catalog or Burpee.com? Good Luck!
Answer

this Question

...
February 20, 2012
0

found this helpful
Where can I buy one of these bushes to grow?
By Terry S
Answers
February 28, 2012
0

found this helpful
Hello! You could look under the name Hibiscus syriacus in the lists of plants of the online nurseries or ask for cuttings from a neighbour as it grows very easily from cuttings.
Answer

this Question

...
Related Content