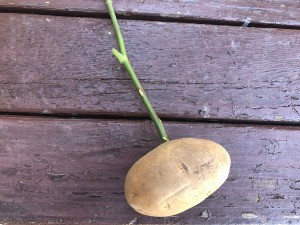 If you have a rosebush that's doing well and want to grow more from it, or give some as a gift, it's a good idea to propagate a cutting from that bush inside of a potato. Potatoes have a good amount of moisture and nutrients for a new cutting to develop from.
Cut a 6 to 8 inch stem from a rose cane that has flowered. Snip at a 45 degree angle with pruning clippers, then snip off any flower heads and hips.
Use a screwdriver or drill bit to make a hole in the potato for the stem to go in snuggly. Push the rose stem into the potato, but not all the way through.
In a pot or in the ground away from direct sunlight, dig a hole in some good soil and pop in the potato and cutting. Cover with at least 3 inches of soil, making sure the potato is fully covered. Keep the soil moist.
After some time, if you gently tug on the cutting and feel resistance, that means its roots have grown and it's time for it to be moved to more direct sunlight.