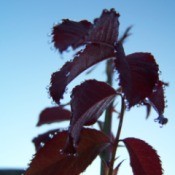 Growing roses from seeds can be a bit tricky and requires a great deal of patience. As rosemom mentioned, the seeds may not produce the same plants as the "mother" since most roses in garden centers are hybrids. Some of the prettiest roses have been "accidents" though.
A number of years ago I found rose seeds in the Thompson and Morgan catalog and decided to give it a try. The catalog cautioned that germination was slow and only a small percentage would germinate.
I filled my containers with a good potting soil, and buried the seeds to the proper depth. I misted the seeds with water, covered them with plastic wrap, and placed them under gro-lights. Misting with an aerosol bottle is key when starting seeds, since you don't want to drown the seeds and too much water in the soil will make them rot. The mister also doesn't disturb the soil.
Keep the plastic on the pots until you start to see green shoots appear. Again, it could take many weeks and even a few months, but just be patient. I had 4 roses germinate and when they were only about 6" high they produced buds. The buds were very tiny, but absolutely perfect examples of pink mini hybrid tea-type roses. I waited a few months and planted them in my garden with my other mini roses.
This is over 10 years ago and they are still growing. The key with any plant that is more difficult to start from seed is to be patient and not give up. Just have fun and enjoy the process, and if it doesn't work the first time keep trying.
By Lilly M from NW MI
Read More

Comments

Can anyone tell me if you can grow roses from seed. I have been gardening for a few years and only just the other day noticed seeds falling from my rose bush. I did not know roses even had seed.
Thanks,
Sharyl
Answers

October 12, 2004
0

found this helpful
Best Answer
Here are some good articles that has a lot of information about it:
www.scvrs.homestead.com/HybridizeKB1.html
faq.gardenweb.com/.../1999085054005758.html
- Susan from ThriftyFun
By rosemom (Guest Post)
January 6, 2009
1

found this helpful
Best Answer
Yes, you can! :) Some roses form hips, (the little balls after the rose fades), and inside there are seeds. When the hip is ripe (reddish color) pick it and carefully cut it open. There are the seeds! :) Not all the seeds will grow, but it is interesting to see what you get especially when you grow seed from a hybrid rose (most of what you buy at the stores are hybrids, so the "babies" will generally not look like the parent plant. Good Lick! :)

October 29, 2011
0

found this helpful
Best Answer
As rosemom said the seeds may not be the same as the "mother" plant, but that is not all bad. Many new roses started as "accidents". Many years ago I ordered some rose seeds from Thompson & Morgan; the only catalog I found that actually had rose seeds. The catalog did state that the germination is very slow and not all seeds would germinate and produce roses.
I was patient and did have 4 roses grow and bloom. They were pink mini roses and they actually bloomed when the plants were only about 6 inches high. Perfect little rose buds and roses. After they were a few months old I planted them in my garden. They are still growing and beautiful and this has been over 10 years. The key with starting plants from seeds is...don't give up and keep trying new things and have fun.
Answer

this Question

Will there be rosehips from rose cuttings? If there is, can its seeds be use for planting?
Answers

Hello
Bronze Post Medal for All Time! 107 Posts
February 27, 2017
0

found this helpful
This sound delightful! I think it depends on the cultivar, whether they will have seeds or not. A lot of commercial cultivars don't because they want you to go out and buy the seeds
in any event, here's a guide on how to do it, when it is possible:
"Cut each rose hip open carefully with a knife and dig out the seeds, again placing them in containers with the name of the rose bush they came from. Once the seeds have all been removed from the rose hips, rinse the seeds off to remove any of the pulp from the rose hips still on them" www.gardeningknowhow.com/.../harvesting-rose-seeds.htm

Judy
Gold Post Medal for All Time! 677 Posts
February 28, 2017
0

found this helpful
The best way to propagate roses is to get a cutting and put it in rooting hormone. Seeds are not as successful for the amateur gardener.
Answer

this Question

I have taken some of the wild rose bush round balls off the bush and someone told me if I let them dry out I can use these to plant a rose bush in my back yard. Is this true and if so how would I go about doing this?
Hardiness Zone: 6b
By Gloria Barnes from Dresden, ME
Answer

this Question