Using tan, burgundy and navy yarn, you can make these wonderful star shaped coasters for indoor or outdoor use this summer.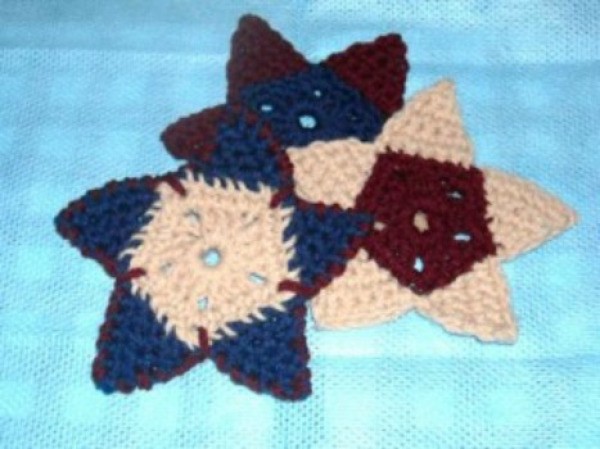 Approximate Time: 1-1.5 hours
Supplies:
4 ply yarn in burgundy, navy, and tan
size 1/9 or 5.50 mm hook
yarn needle
optional: Scotchgard
Instructions:
Beginning with a loop on hook, chain 5 and form a circle. Chain 3 and make two double crochets in the circle. This gives you your first of five sets of 3 double crochets. Then chain 2, and make 4 more sets of double crochets in that circle with a chain two in between each set. This gives you a pentagon shape. Join with last chain two.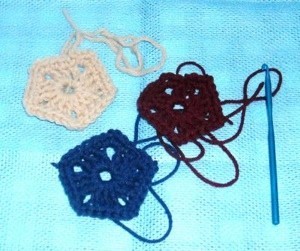 Where you joined, chain 1 and make 3 single crochets to the first chain 2 space in each of the stitches below it. Chain 2 and make 5 single crochets in the next five stitches. Keep this going till you come back to the last chain 2 and you will have just 2 singles to meet the 3 you did in the first row and join.
Leave at least 16 inches of tail and cut off. You can make each center a color and the star points another and the stitching around the final product the third colors, so at this point, you can just make three pentagons and have them all ready.
When you are ready to make the star points, loop on the yarn and chain 2. Single crochet in the first chain, chain 1 and turn. Single crochet once in that stitch, and then the next 2...and keep doing that till you have 7 stitches across.
Do Not Cut Off!
Chain two from the end of that triangle and do it again 4 more times. You will then have 5 triangles all chained together.
Do this with the other two colors.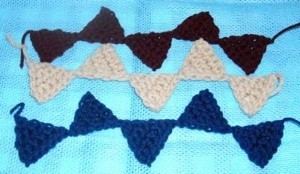 When you choose which colors of points go with which pentagon, you can start to sew them on. You will need to start on the right one and match it to the side of the pentagon you choose, then sew that one with the tail of the pentagon.
Important Part to Keep in Mind Right Here!
Your first triangle will go on easy, but from there, you will have to twist at the connection point of the triangles to make sure they lay right for sewing on. If you left them to the direction they were crocheted in, they won't work.
Whipstitch the triangles to the pentagon center. Thread through any tail and cut off.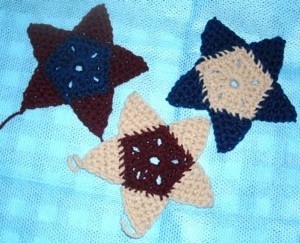 Using the third color, whipstitch around the outside, so that each coaster is three of the colors.
OPTIONAL: You can leave the border sewing off as I did for two of them to show you they look nice either way.
Block and spray with Scotchgard if you want them to stay waterproof, or leave them be and wash them when needed.
N-JOY
By Sandra from Salem OR