Avocado Leaves Died After Browning?
I recently planted a 5yr old avocado tree that was beginning to flower. I (thought) I did everything I was supposed when planting, including fresh soil and deep watering, but since I planted the tree all the leaves have died and turned brown, but the branches are still green. It has been about three weeks since planting.
I have sprinklers set to twice a week, but if am wondering if it is not getting enough water from them. I have deep watered only twice since planting. The tree sits on the north east end of my yard and gets plenty of sun after about 10am. Does it sound like the tree can recover? If so, what do I need to do?
By Shawn H.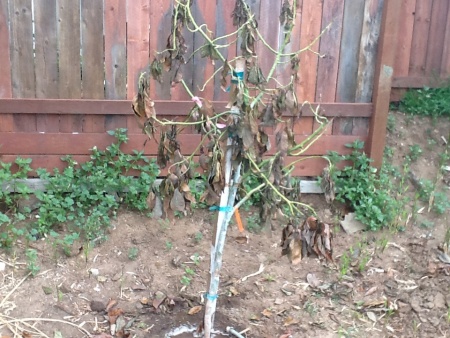 Add your voice! Click below to answer. ThriftyFun is powered by your wisdom!

October 26, 2014
0

found this helpful
My tree is 3 feet tall & in a pot and turning brown, should I plant it. Should the seed be visible when I plant it? How cold is to cold for it?

October 13, 2015
2

found this helpful
Best Answer
Avocados can handle winter temperatures if prepped the right way every avo I had survived winter in my house and it probably gets around 50 degrees to 45 the least until I use heat. When planting avocado you can burry seed or display half since seed will eventually rot, display half so when rotting is spotted you can simply remove the huge stale seed note only when the avo is ready though! Else you would be depleting it of butrients, avocados is very finicky plants they like loose soil and damp to dry soil and indirect light and some full sun is required, with out it slow growth and leggy plant will happen.
As far as brown leaves check for over watering, over fertilizing and or root bound, or insufficient lighting, all is fixable if root bound repot cut back dead black roots and the main tap root a couple inches to encourage more root branch out growth . Fertilize lightly for avocados half the recomended and probably once every two three months , with all these factors new leaves will grow back just monitor plant.

October 13, 2015
0

found this helpful
Your plant is experiencing transplant shock. Your prior growing media to that of the ground it is in, is totally different in nutrients (nitrogen and etc levels), so all former growth from old media will die back and new growth from what's in the ground it's now in will come forth in time as it adjusts.
Next time if planning on planting in ground do it sooner, the sooner the better as for no shock. You will want to manage the climate because if outside doesn't match 5 years inside temperature, more shock.
Don't water too often, one good deep watering is needed, then wait 20 days or so. Remember, it has to adjust to the natural rain water schedule less of your maintenance. Stay blessed and don't worry should be fine and hopefully you transplanted in around spring and summer.
Add your voice! Click below to answer. ThriftyFun is powered by your wisdom!
Advertisement
Published by ThriftyFun.
© 1997-2021 by Cumuli, Inc. All Rights Reserved.
https://www.thriftyfun.com/Avocado-Leaves-Died-After-Browning-1.html