Maybe you're celebrating a special occasion in your pup's life. Maybe you love to cook and want to experiment with new recipes! Here are some basic recipes for homemade dog treats -- I'd love to hear about any variations you try.
The Basics
3 1/2 cup unbleached flour
2 cup whole wheat flour
1 cup cornmeal
1/2 cup skim milk powder
1 tablespoon (or 1 package) dry yeast
3 1/2 cups lukewarm chicken or meat broth
Dissolve the yeast in the lukewarm chicken or meat broth. The richer this broth is, the better your dog will like the biscuits. Let yeast broth mixture set 10 min. Mix together the flours, cornmeal, and milk powder. Combine the yeast broth with the flour mixture.

Roll resulting dough out approximately 1/4" thick. Cut dog biscuit shapes from dough -- this is a good time to use those cookie cutters! Brush biscuits with egg wash if desired. Bake on greased cookie sheets at 300 degrees for 45 min.

Turn off oven and leave in overnight to finish hardening. Makes 60 medium-sized biscuits.
The One-Step-Above The Basics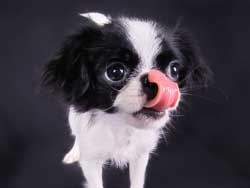 1 3/4 cup whole wheat flour
1 1/4 cup oatmeal
1 1/2 tablespoons vegetable oil
1 cup warm water
Optional:
1/3 cup grated cheese or 1/2 cup peanut butter
Mix dry ingredients together and set aside. Mix wet ingredients. Blend wet and dry together until you get a firm dough. Shape dough into a roll, wrap in plastic wrap, and chill for one hour.

Slice roll into quarter-inch pieces and place on greased baking sheet. Cook at 300 degrees for about an hour. Let them cool before sharing with your pup!

These will get you started... but be creative! You can always add boullion to water in any recipe to add more beef or chicken flavor. Just be careful -- some dogs are allergic to beef or wheat. And never EVER use chocolate!
Answers:
Bake Your Own Dog Treats!
Well sounds good and easy enough. Cookie and Oso will try these out soon. (04/26/2006)

By meoowmom
Bake Your Own Dog Treats!
My dog is allergic to wheat, and if there is a way to make treats with out it I would love to know. She loves "cookies" (dog biscuits) but I have had to go to rawhide. Thanks so much (04/26/2006)

By octoberbabye
Bake Your Own Dog Treats!
octoberbabye: try to make a recipe using oatflour (pulverize oatmeal in your blender, but be careful not to burn the motor), rye flour, buckwheat, spelt flour, quinoa flour, barley, or millet flour. You can find these at your health food store. I'm sure your baby would love the treats. (04/04/2007)

By susanmajp
Bake Your Own Dog Treats!
This is great, my chis just love them. (04/08/2007)

By George
Bake Your Own Dog Treats!
Re Wheat Allergy - I made rice based treats that my little dog adores: Take equal quantities by weight of uncooked short grain rice and chicken liver. Cook the rice until soft, allow to cool a little, then mix with the raw liver in a food mixer (or use a stick blender). Spread about 1cm/.5 inch thick on non stick trays or silicon sheet, and bake at 150 centigrade for half an hour or so, then leave in a VERY low oven (100 c or so) overnight. Break into small pieces and store in a polythene bag or air tight container (07/12/2007)
By Flissy's Mum