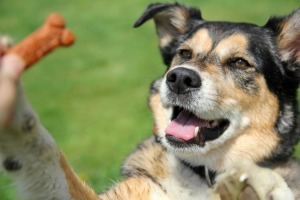 When you buy soft dog treats, such as jerky or sausage type, tear them into smaller pieces. You can give just one tidbit as a training treat or plain old reward. Most dogs don't need the extra calories of an entire treat, and this way, you spend more time with your dog, too. It's all about the love!
By zballoongirl
Comments

March 11, 2005
0

found this helpful
Top Comment
Hope I'm not posting this twice. My apologies if this happens.
I make my own doggie "cookies" for my dogs. They are dirt cheap to make and use ingredients that are in my house and I know what are in the treats. I make the cookies for my dogs every two weeks and they love them. I've tried them on other dogs and they love them too.
Here's my favorite:

Snickerpoodles Dog Treats
1/2 cup canola oil
1/2 cup shortening
1 cup honey
2 eggs
3 3/4 cups white flour
2 teaspoons cream of tartar
1 teaspoon baking soda
1/2 cup cornmeal
2 teaspoons cinnamon
Mix vegetable oil, shortening and honey together until smooth. Add eggs and beat well.
Blend in flour, baking soda and cream of tartar. Knead dough until mixed well.
Shape dough by rounded teaspoons into balls. Mix the cornmeal and cinnamon together in a bowl and roll balls in mixture.
Place 2 inches apart on a cookie sheet that has been sprayed with a nonstick spray. Press the balls down with a fork twice going in 2 different directions or press with your favorite stamp.
Bake 8 minutes at 400. Remove from baking sheet and cool on a rack.
I go half white and half wheat flour and last week I substuted blackstrap molasses for half of the honey. You could make them in small nuggets before you bake them or break the larger cookies up.
Read More

Comments

Teach loose leash walking by using treats. Have your dog on your left side, leash slightly loose, and have a pocket full of treats on the other side. Speak your dog's name or make lip pursed sounds or whatever it takes to get his attention.
Read More...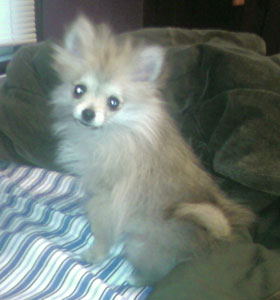 I have a 13 wk old Pom puppy who is paper training. I would like to use treats in her training. I would love suggestions on small soft training treats. Thanks Guys!
Ang from Ohio
Answers
Best Answer
We use real liver (freeze-dried) treats and puppy biscuits. The real liver treat are soft and can be broken into smaller pieces. The puppy biscuits are small, round and harder and are perfect for small dogs like yours.
For training, it works best to have three grades of treat Best, Better, and Good. For the difficult commands such as a stay, wait, down-stay or drop it, the best or "gold" treats make training easier.
These treats are available in chain pet stores. Good luck and hope this helps.

January 15, 2008
0

found this helpful
Best Answer
I also have poms and mine love this treat. They are easy to make.
Take 1 jar chicken, beef, or turkey baby food and mix it with equal parts wheat germ and powdered milk untill it's no longer thin. Make drop size bites then bake in a 350 degree oven until brown around corners. Keep in fridge, it's a really easy and great training treat.
By Kathy (Guest Post)
January 16, 2008
0

found this helpful
Best Answer
I read somewhere that the best and cheapest is cut up hotdogs. I slice them long ways into fourths, then into small pieces and microwave them until they are dried up.
They keep in a jar, open, on the counter top. My dog loves them.

January 17, 2008
0

found this helpful
Best Answer
I too have pomeranians. 2 girls, see my profile for the details.
I do a lot of obedience and agility training with them. We use tons of treats. Best treats for any training, should be small and soft. Soft treats allow the dog to keep focused on you. If you ever watched your dog chew a crunchy treat you will notice they drop their head and lose focus.
I found lots of small treats they liked, but they are or can be expensive. The best and least expensive treat would be string cheese. You can break off small bites. For a small Pom you could get tons of treating out of just one stick. Not to mention it is more healthy for them.
The procesed treats have corn syrup as a main ingredient unless you spend money for the natural ones. Most of them you can't find just in any pet store. String cheese you can always have on had, it doesn't smell and you can easily take it with you on walks and other places you may want to practice with training.
The other thing would be any kind of cooked meat, liver, beef, chicken... just cook a piece of chicken and cut it into pieces. The only thing with meat is you should only keep the piece in the fridge for 3-4 days, if you don't use it by then, throw it. Another reason why cheese is good, it has a longer fridge life.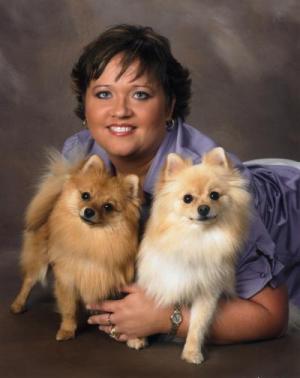 Answer

this Question