Saving Money on Dog Treats
Solutions
Share on ThriftyFunThis page contains the following solutions. Have something to add? Please share your solution!
May 12, 2005
4

found this helpful
I do this a lot in the summer time. It's for the k9s in the family. I'll put some Kibbles and Bits in a ice cube tray then fill with chicken broth, I cover this with Saran wrap, stick some rawhide sticks in the middle, and let freeze. Your doggies will love them hot summer days! :) Enjoy!

By Janice
An easy way to make treats and a great dental aid for your dog (and some cats too) is to cut strips of beef or turkey meat and dry them into jerky. Use the cheap cuts of meat, like skirt steak etc., as they are often tastier.
Make sure you cut the strip "with" the grain of the meat and not across. This gives a better 'chew'. A width of about 2 cm. (1 inch) and a thickness of about 1/2 cm. (1/4 inch) is usually best as it dries quicker.
Lay the strips onto a tray and use a low heat setting (250 degrees F) for as long as it takes to remove the moisture from the meat. When I make jerky for us humans I salt it down overnight first, but I prefer not to add extra salt to the dog's diet.
Jerky stores really well in a screw top jar, and I have yet to find a pooch that won't do hand stands for a piece! Remember though that even though it shrinks, a few pieces rehydrated will equal 3 times more so don't overfeed your puppy. Cheers!
By Vicki Keong from Queensland, Australia
Cheap dog treats! I was spending a fortune on dog treats training our puppy. I have since begun buying hot dogs and I slice them into thin discs. About half I cut again into 4ths. I use the smaller ones for training, when you need to use many in one sitting. I have done them in the dehydrator and in the oven on a rack. I cook until crisp. They not only store well, but one pack makes A LOT of treats. Our dog even prefers these over the expensive store bought treats.
The price is about $3.49 for 8 oz of store bought "real beef flavor treats vs. $1.00 lb (on sale of course!) 100% beef hot dog treats!
By Jen from Kennett Square, PA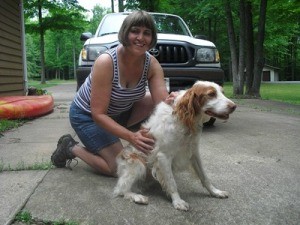 My friend heard from her vet that if you feed your dog Kibbles 'n Bits as a treat, they will really like them and also get food that is good for them. I tried this and my dog Jack just loves his treat.
By Coppercoins from Park Falls, WI
Instead of spending money and adding extra calories for my dog, I don't buy dog cookies anymore. Now I give her a couple of Cheerios as a treat and she is just as happy.
Read More...