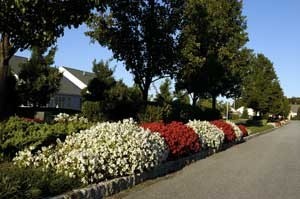 One of my favorite things to do in the summer is to bike or walk around my neigborhood and look at people's gardens. I especially admire the gardens that extend out onto the boulevards in front of people's houses. They seem to impart a sense of community pride and give a real welcoming feel to the neighborhood. If you've been considering the challenge of adding some "curb appeal" to your garden, here are some suggestions on how to get started.
Start With City Hall
Before starting your garden, check with city hall for regulations and ordinances regarding planting on your boulevard. Some cities require permits before planting to ensure public-safety and environmental regulations are adhered to. Technically speaking, the boulevard is the area between the sidewalk and the street. And although you may actually own this area, in most communities this area is governed by the city and is considered public space. It's considered an easement area and is usually filled with city utilities, like water and sewer pipes, that may need to be accessed from time to time for repairs or maintenance. If your garden were ever to become damaged by this work, do not plan on being compensated.
Talk To Your Neighbors
Your neighbors are likely to love the idea of beautifying your street-they may even be inspired to follow your lead. Still, check with them before tearing up any sod. You might be surprised to learn that not everyone appreciates boulevard gardens. Some people worry about soil erosion, herbicide runoff and the garden looking unkempt or becoming overgrown.
Consider The Safety & Site Restrictions
There are special safety and site limitations to consider before planting a boulevard garden. Many of these will be specified in city permits and others are just common sense.
Visibility: Plants need to have a low enough profile so they don't block motorist's ability to see at intersections or impede their ability to see neighborhood children and pets.
Run-off: Gardens need to be constructed so soil stays in the garden and does not run off onto the street during watering or heavy rains. The use of certain pesticides and herbicides may be restricted to avoid adding pollution to city sewer systems.
Liability: There may be restrictions on the use of landscaping timbers, stones, containers, or other objects that could interfere with city-operated vehicles like street cleaners or snow plows or that may otherwise be deemed a potential threat to public safety.
Existing Trees: If there is an existing tree on your boulevard, there may also be rules in place designed to protect it. Although these trees are on your boulevard, they really belong to the whole neighborhood. They provide shade, filter the air and help to slow the run-off of pollutants into nearby lakes and streams. They are the most important plants on the boulevard and all residents should share in protecting them.
Understand The Challenges
Beyond legal restrictions and safety considerations, there are some challenges inherent to planting a boulevard garden.
Trees: You will need to avoid digging near the tree's drip line to prevent damaging any feeder roots that lie near the surface. Instead of planting large perennials, use containers and smaller plants to fill in the areas under the trees.
Soil: The sand, salt and garbage common to most city streets combine to create less than ideal soil conditions on most boulevards. In some cases, the soil consists of more construction fill than it does dirt. Plan on a soil test and amending the site with organic matter such as compost and peat moss before planting.
Plants: The plants in a boulevard garden need to be able to survive and thrive despite salt, sand and car exhaust fumes. They also need to be of a limited height so as not to impede the vision of passing motorists. City permits may specify which plants are acceptable for a boulevard garden in your city. If yours does not, take a drive around your community to see what's working for other gardeners or consult a local nursery for ideas. Some examples of high to moderate salt tolerant perennials include: Dianthus, Fountain Grass, Artemisia "Silver Mound", Blue Fescue, Hosta, Sea Lavendar, Daylilies, Sedum, Coral Bells, Yarrow and Purple Coneflowers and Black-Eyed Susan.
Traffic: Your garden will be exposed to opening car doors and foot traffic. Leave 2 to 3 feet on either side of your garden or plant that area with ground cover to allow car-doors to open and foot traffic to pass by without brushing your plants.
Maintenance: Boulevard gardens need to be maintained in the same way as other gardens. They should be kept free from weeds and dead plant debris needs to be disposed of properly. Mulching to control weeds is always preferable to using chemicals. Your garden hose may not reach your boulevard as easily as it reaches other parts of the garden, so watering may be slightly more challenging.
Every type of garden presents its own unique challenges and rewards. Boulevard gardens are certainly no different. And although the challenges of a boulevard garden may be something you have to experience by yourself, your friends, neighbors and your entire community will be happy to share the rewards with you.