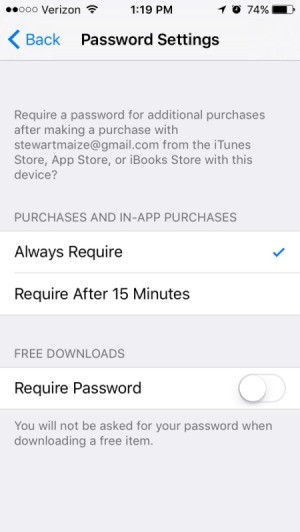 On Friday, I was checking over my bank account and saw a new purchase from iTunes. We use Family Share for the apps so all the purchases come out of my husband's Apple account. After checking with my husband, we realized that several small purchases on my teenage son's phone were adding up. Over the course of the last month, he had purchases ranging from 99 cents up to over $20. The culprit: In-App Purchases.
We have had a run-in a few years ago with my younger son and a game called "Kick The Buddy." The game was free, but had all sorts of shortcuts and options for additional charges. These games usually get harder and harder until buying the upgrade is better than never being able to finish the game. He ran up a bill of over $200 before we realized what was occurring. We set all the current security features at that time but it appears we needed to check them again.
This time, my husband received email notifications from Apple but didn't see them right away. I had noticed a few of the purchases but thought the largest one was a yearly renewal fee or something. Neither of us noticed until too late. My son has since removed the games from his phone and has made sure that his password is required for all purchases.
Anyone can fall for these easy in-app purchases but children are especially susceptible. Here are a couple of common sense tips to help avoid problems.

Check to make sure that you always require a password for any purchase. It can default to only requiring it after 15 minutes, allowing someone else to purchase without entering the password again. On my iPhone, this was in Password Settings

Or make sure that In-App purchases are turned off entirely. This is located in Restrictions on my iPhone. You will need to set a separate password and you can restrict all sorts of things. This feature can be very helpful for parents and caregivers.



Set your iTunes account to a gift card or credit card so that fraudulent or unwanted purchases don't come directly out of your bank account. This also gives you the bonus of the credit card's customer protection services.

Watch your email and account for purchases so that you can dispute them immediately. We were able to get a small amount of the money back on the latest charges.

Be cautious of free apps and games. Look for highly rated ones and check them out yourselves. When we researched "Kick the Buddy", we were appalled at the subject matter and the amount of complaints on the internet about it.
These tips are for the iPhone and iPad but all phones and tablets should have similar options. I hope I can save some of you from this frustration.