Bichon Frise - Poodle Mix Information and Photos
Photos
Share on ThriftyFunCheck out these photos. Click at right to share your own photo in this page.
This is Bungee, he is a 9 year old Bichon Frise/Standard Poodle. We got him from the Bichon Rescue (www.bichonrescue.org). He likes to hike in the mountains with his family, squeak toys, have company over to play, help mom in the kitchen, and go to the office with dad. Bungee has a great sense of humor. He thinks he's a little curly lap dog, and polices fights when they break out in guest doggies. He's known around the world as 'Mayor of Symphony Hill'.
By Joyous from Symphony Hill, TN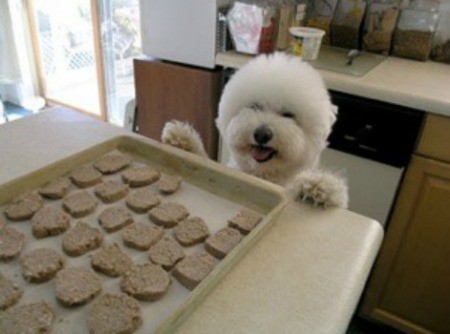 Chompers is one and a half. He is a Pomeranian/Poodle/Bichon Frise. I got him September 1, 08.
My dog absolutely loves his toys, he can't live without them. So when he wants to have fun, he gets his favorite toy and puts it on my lap or right in front of me. When he doesn't get the attention he wants he squeaks it right in front of me, it is the cutest thing I've ever seen in my life.
Since I have been with my dog since he was about three days old and I own his father, he is really attached to me. He is like my shadow, anywhere I go he is surely right behind. Even though he is only 7 pounds, he thinks he can protect me. When we are asleep, he is always right next to me.
By Tatiana from El Monte, CA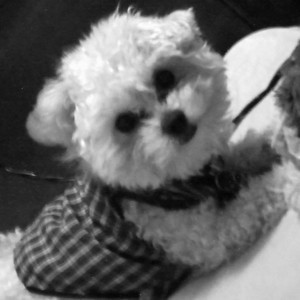 Poo Bear is a 1 year old Bichon/Poodle. We got when we first moved to Texas. He likes to play with his brothers, Howard and Houston (Dog and cat). Poo Bear is the party guy. He looks funny and has a funny personality!
By Daina from Houston, TX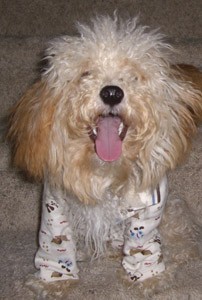 Jedi is our best friend! He is half Poodle and half Bischon. Jedi is smart, playful, well behaved, and a cuddly bud. Poodles and Bischons do not shed.