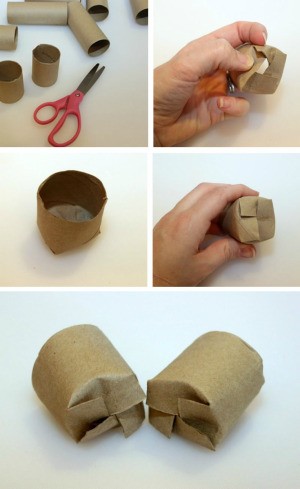 I saw this on Facebook and I wanted to make my own with a little flair. You put in only one seed per planter.
First you take a toilet paper roll and cut it into three even pieces. Then you make four to six cuts with scissors on the bottom of the toilet paper roll, about an inch long. You then fold them over one another.
You can use a little bit of masking tape to hold them if you like. Other tape is not really biodegradable.
You then fill the little sprouting cups with damp potting soil and put one seed in them. Then you put them into a sunny window, and keep the soil damp.
When they germinate, you can then plant the whole thing in the ground.
I put the clothespin decor on mine because I thought it was adorable.
toilet_roll_a