Make two meals on the cheap and on the quick. What could be better?
Ingredients:
150 g spaghetti, uncooked (enough for two or cook more and freeze the rest in a freezer-safe resealable bag or container)
1 lb. extra lean ground beef
2 cups chopped onions
4 garlic cloves, minced
2 (19 oz.) cans Italian-style stewed tomatoes, undrained
1 small can tomato paste
4 Tbsp. Zesty Italian Salad Dressing
1/4 cup Parmesan cheese
1 can (19 oz.) kidney beans
1/2 cup salsa
1 Tbsp. chili powder
1/4 cup Tex Mex shredded cheese
Directions:
Cook pasta as directed on package.
Meanwhile, combine meat, onions, and garlic in large non-stick skillet; cook on medium heat until onions are crisp-tender, stirring frequently, and meat is well-browned. Stir in tomatoes, tomato paste and dressing. Bring to a boil; cover. Reduce heat to medium-low; simmer 5 minutes or until heated through, stirring occasionally.
Drain pasta; place in large serving bowl. Add meat sauce; mix lightly. Sprinkle with the Parmesan cheese. Serve 2.
With remaining meat sauce stir in drained kidney beans, salsa, and chili powder. Heat through. Cool completely to put in the freezer for another day or refrigerate overnight for the next meal. Top with shredded cheese when ready to serve.
Source: http://www.kraftcanada.com
By sooz from Toronto, ON
Read More

Comments
When the pandemic hit, we started expanding our garden to grow our own food. One of our fastest-growing and most plentiful items are cherry tomatoes. A bit tired of salad, I tried making a bolognese sauce with them for pasta night. It was so incredibly delicious.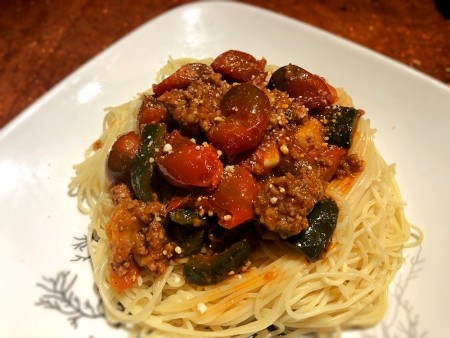 This is a joint recipe from my mother-in-law and myself. When I visit her in England, I always prefer to eat her foods over going out. Thankfully, we make a great team in the kitchen!
We made this bolognese after going hiking and it really hit the spot. Even though it's super meaty, it's got loads of veggies and herbs, so it's quite refreshing.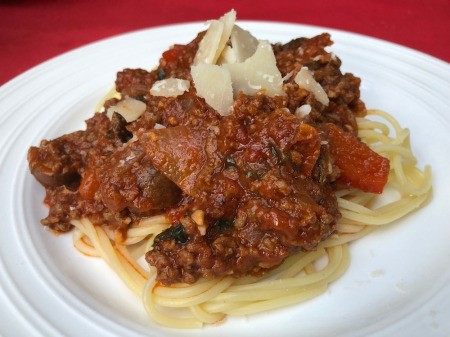 Take your Bolognese up a level by adding Italian sausage, Parmesan cheese, and cream to the pot. Just a few tweaks to your usual meat sauce recipe can make something truly extraordinary!