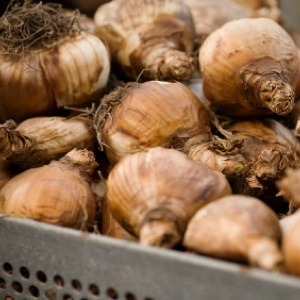 My spring/summer bulbs have not flowered. There are plenty of leaves, but nothing else. The bulbs are, tulip and daffodils. Any suggestions?
By FRANKIE
Answers

Joan
Bronze Feedback Medal for All Time! 186 Feedbacks
May 5, 2011
0

found this helpful
Where are you located? Here in South Dakota things like that bloom at different times depending on what part of the state a person lives in. It could be you planted them too deep. Back in the early 70s my mother-in-law gave us starts for peonies and my husband insisted that they had to be planted really deep, so that is what we did, and the following spring they didn't do anything, they came up a little bit, but that is all and he was having a fit about that. Meanwhile I read an article telling how they should be planted, and I showed the article to my husband and of course in his mind the person that wrote the article didn't know anything. Anyway when fall arrived I dug the peonies up and replanted them according to the directions in the article, and the next spring we had gorgeous peonies, and my husband couldn't believe it. When we told his mother about it she agreed with me too.

May 5, 2011
0

found this helpful
If these bulbs were ever forced to bloom, they some times get blinded and the following years produce only leaves. People some times save the bulbs when they get a gift of potted flowers. These flowers have all been forced to bloom for a certain date. (Easter,Christmas, what ever the holiday may be)Also you have to be sure that your bulbs have had the proper amount of time where they rested(like over the winter).If they do not get this needed cold rest period, you will probably only get leaves.
If these bulbs have bloomed the previous year, you should have left the leaves on until the sugar and starches have replenished the mother bulbs. Cutting off those leaves too soon is not good.
I live in Fla. and store Daffodil bulbs in my frig. for three months before I plant them in Fla. soil They bloom, but only once, but it still brings memories of my wonderful daffodils from CT. jjs West Palm Beach FL

March 15, 2021
0

found this helpful
tulips like a really cold temperature to bloom. I see alot of them are grown in Michigan. In Alabama they say we don't cold enough and long enough temperatures to force the blooms.
Except some that are of the older variety
Answer

this Question

I planted 15 Acidanthera bulbs in late April/early May. The foliage has come up, but the flowers have yet to show themselves. My question is, does the Acidanthera only flower every other year? or does the Acidanthera not flower the first year? Any advice or answers are appreciated.
Hardiness Zone: 5a
By Kevin Nightingale from Sidney, NY
Answers

August 21, 2010
0

found this helpful
Hi Keven, If we are talking gladiolus callianthus. I have planted & lifted mine for 6/7 years now. The last two years, they have been very unproductive. This year though, I have a fair number of blooms. I think it is that the bulb has to be the right size/age, the size of a hazelnut. Too old & they're bloomed out, too small & they are immature.
Regardless of whether yours have bloomed this year, after first frost lift them & store in a cool dry spot for the winter. There should also be a lot of little pea sized bulbs you should save too. About 1/2 of these should survive to be planted next spring. If you plant in a basket, there is less chance of losing these tiny bulbs & will be able to keep planting your bulbs every year, with success when they attain the right size. This is only what I have experienced myself as I could find no help on the subject on the internet or in my many gardening books. I should also mention that I have never fertilized them per se but have usually used fresh triple mix to pot them up each year. I have attached a pic of one of my baskets (which I sink into the ground) As you can see, mine have almost finished their bloom.
Marg - Fenwick, Ontario (Cdn Zone 6)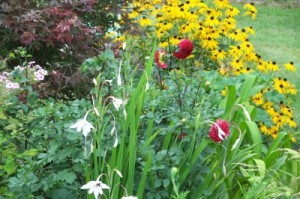 Answer

this Question