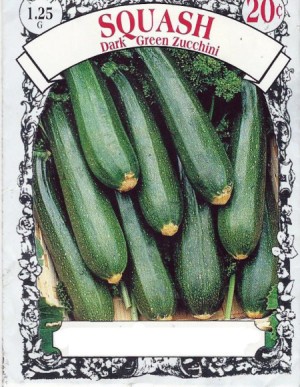 I just opened a pack of zucchini seed to see how many seeds were in the pack. Would you believe a pitiful seven? Well, the pack cost only 20 cents at the Dollar Store. Should I complain? Yes, at least give me enough to make bringing them home worthwhile, even if the price is a nickel.
While opening the pack, my eye again caught what it had caught when I bought the seed. There is no variety name on the pack. I'm beginning to see more and more of this practice. I can't imagine what advantage this would be to the seedsmen, but you can bet your sister Sylvia's salvia seed collection, there is one.
You can buy a named variety of zucchini seed for a ridiculous price, around 2 dollars. You shouldn't have to pay that price just to know what you're getting.
The particular company producing the 20 cent pack of seed has been doing this for several years. Other companies do it, too. Let's say you buy a pack of this seed and really like the zucchini. A well spent 20 cents, right? Well, if you buy the same pack from the same company next year, you may not get the same variety. Since the variety name is not given, the company can legally change the variety of seed it puts in the pack, every year.
Frankly, I'm tired of this trend. Do you think I'm being too picky? There's more. Early last year, I planted a 60 foot row of Emerald Green Arborvitae. They all survived and are looking good. Thank you.
This year, I'm thinking about planting another 60 foot row.
For me, Walmart is as close as Lowe's. Walmart sells arborvitae, too, and they are a dollar plus less than Lowe's. Not only that, their trees look super. But, I won't be buying any from Walmart. They don't specify a variety. And at the young age of arborvitae in gallon pots, they all look pretty much the same to me.
There are different arborvitaes. Different shades of green, different shapes, and different final heights. If I bought these unnamed variety trees and planted them, I wouldn't see that they didn't match my first row (if they didn't) until it was too late to do anything practical about it.
While shopping today, I perused Walmart's garden center. I looked at their blackberry plants as I need another Apache for cuttings. The plants were healthy and the price was OK. Still, No Go. Their plants did not have a variety name on the container or tag. The berries could be as sour as a lemon and you wouldn't know until next year. All that care, love and attention down the drain. Not to mention your thwarted anticipation. Sorry, the return date has expired.
I think if people would stop buying unnamed varieties, the seedsmen and growers would soon quit this practice. It's not just seed and blackberry plants. I've seen peach trees for sale without a variety listed. Would the peaches be as good as a Georgia Belle or an Elberta? You won't know until it's too late.
Together, we can stop this, Y'all. Even though they may be cheaper, don't buy unnamed varieties of shrubs and trees.