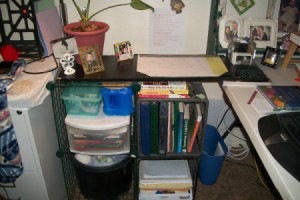 My computer desk is not all that big, just 6 feet. I live by my calendar now that I am doing more fundraisers and such. It was by the keyboard and I always had to write on it sideways, or try and scooch my body and chair on the carpeting just to get 12 inches closer.
Today was the day I said "enough". I broke down the top cube in the wire shelf unit, found an old book that was the perfect height and width, and a board from an old entertainment center and in about 15 minutes, made a little makeshift calendar table.
I moved my craft books so I can open them without getting up, put a plant and some family photos up, my calculator, pens, white out pen, etc. are closer now, too.
Now I am off to make more room somewhere else for the yarn baskets I "dislocated"! It's always something huh?
Sandi/PBP