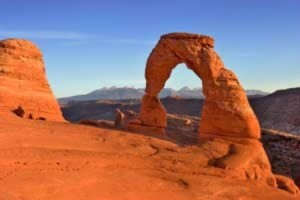 Arches National Park may be out in the middle of nowhere, but it has plenty of spectacular sights to offer any visitor. Located in the small town of Moab, Utah, Arches National Park offers up over two thousand naturally formed sandstone arches.
Visitors can spend their time biking, hiking, or driving through the park. There are 15 hiking trails ranging from 100 yards round trip to over 7 miles. Difficulty ranges from easy to moderate.
Camping is available in the park at the Devil's Garden Campground. Cost is $15 for individual sites and can accommodate up to a 30 ft RV.
Those who haven't gotten enough can travel down the road to Canyonlands National Park. Divided into four distinct districts, the Island in the Sky District is also located in Moab and offers up vistas as spectacular as the Grand Canyon and short, day hiking opportunities.
Arches and Canyonlands National Parks are just two of 149 National Parks, Seashores, etc. that offer camping and or hiking. The parks are located in just about every state and offer the chance to see amazing and preserved natural wonders, such as waterfalls, cliffs, and arches.
With as little as $50 anyone can purchase a National Park Pass which is good for up to year and allows that individual and those in his or her car free admission to any part of the national park service which includes parks, historic sites, preserves and more. Thinking of visiting only one park? Check out their entrance fee - it may still be cheaper to buy the year-long pass.
In addition to the entrance fee, hikers and campers may also have to purchase supplementary permits to camp or hike within the park or on designated trails.
Most National Parks with camping have traditional campgrounds with access to showers and toilets. In additional there are parks that offer backwoods camping - essential extremely remote camping along trails. Cost for staying in the campground is relatively low - generally in the $15 to $25 range for anyone.
For more information on camping and hiking regulations along with details for individual National Parks, please visit the National Park Service website at www.nps.gov.
By Brandi