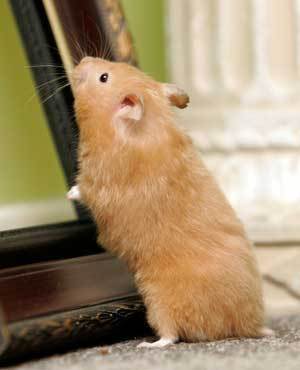 Description:
Hamsters are small, prolific rodents that are similar biologically to mice. They are easy to distinguish from gerbils by their lack of tails. Although many species exist, only a few different species are commonly sold as pets. The dwarf hamster is the most social and the Syrian and Chinese hamsters are the easiest to train.
Size: There are several common varieties of domesticated hamsters. They range in size from 1-6.5 oz. and 6-8 inches long. Unlike some other small rodents, female hamsters are usually larger than the males.
Compatibility: Hamsters are solitary by nature. In the wild they live alone in single burrows and dens. They should be housed separately from one another and introduced only cautiously if breeding.
Appeal: They are fastidious and clean by nature. They require very little maintenance and are relatively inexpensive to keep. They are attractive and interesting to watch. There are many colorful acrylic housing systems ready-made and designed specifically for hamsters.
Drawbacks: They have a short lifespan and should be acquired young. They are nocturnal by nature and tend to be more active at night. They have more of a tendency to bite than other rodents and are not suitable for small children. They must be housed separately to avoid fights. They are escape artists, always seeking to escape by burrowing rather than remaining above ground.
Diet: Hamsters require a diet made up of a cereal-based seed mixture that is supplemented by small amounts of fresh vegetables and greens.
Problems & Health Issues: These rodents can be prone to tumors and injuries caused by falls. They can also be susceptible to hernias and various dietary problems.
Lifespan: Hamsters have a short life span of only 2-3 years.
Interesting Facts: The name hamster comes from the German word "hamstern," meaning "to hoard," and reflects their habit of stuffing their cheeks with large amount of food in order to carry it back to their den.