I am thinking of getting a carpet shampooer. I really don't know what to look for. If you have one, can you tell me what the pros/cons of that particular machine are? I appreciate any input. Thanks! - Diane
Answers:
Carpet Shampooer Recommendations
I just went through this exact process. In my search, I decided to see what Consumer Reports says about these things. I have come to value their opinion on many things. Most recently I looked to them for their unbiased recommendations when it came to purchasing my refrigerator and my cordless answering machine. In any case, their opinion with Carpet Shampooers is don't waste your money on owning one because none do as good of a job as the machines you can rent. In their opinion it was much more economical to rent this machine a couple times a year than to spend the $200+ on a machine that wouldn't do nearly as well. I opted to heed their advice and NOT buy. Besides, I don't need another THING around the house!!! My subscription to Consumer Reports Magazine and online version is the best money I ever spent! Has saved me big $$$$$. Good Luck. (03/04/2001)
By dibaby718
Carpet Shampooer Recommendations
I have a HOOVER with 4 Brushes. Does a very good job - HardyBlueByrd (03/05/2001)

Carpet Shampooer Recommendations
I have a cannister Bissell Power Steamer. It cost about 80 dollars. It works well but what I don't like about it is you have this long hose that you need to hook up to the kitchen sink to provide the hot water. If I was going to buy another, I would buy one that holds the hot water in the unit or heats it's own water. I like the fact that it has attachments for different purposes. I had wanted to be able to use it to clean carpets and upholstery in the car, however, I don't have a hose long enough to stretch from the kitchen sink to the driveway. Do check out recommendations and features that each machine has. Also think about where you would like to use it. With the one I have you must have a hot water source (or a extra long garden hose) nearby to use it properly. - Susan (03/05/2001)
Carpet Shampooer Recommendations
I also have a Hoover Steam Vac and when it wears out believe me, I "will" buy another. I will never be without one again. We live upstairs in an apartment and I would hate to think I would have to lug one of those rentals up the stairs. It has come in so handy, so many, many times. I would again pay a few dollars more and get one that comes with attachments to clean furniture, inside of the car, etc. You will never spend your money more wisely. (03/18/2001)

By JSRS443
Carpet Shampooer Recommendations
Go to http://www.kirby.com and click "Schedule a personal in home demonstration today!" your nearest Kirby office will come out and show (not tell) you what their system can do. I've had a Kirby for over 20 years with ZERO problems and outstanding performance. I just upgraded to the new model with the transmission and I'm again more than happy with it. Just think, you have nothing to lose. They will come to you, show you what the Kirby can do, clean any room in your house for you FOR FREE!!!!!! And if you for only God knows why don't like it they will take it with them, no strings attached. My Kirby has saved me thousands of dollars in carpet replacement alone. In fact, even with 5 of us living on this carpet, it looks as good now as it did 20 years ago. All we do is vacuums once a week and shampoo once a year. I know of no other system that can do that. But again, you have nothing to lose, and thousands to save. It was one of the best decisions I ever made. (01/15/2005)
By Matt
Carpet Shampooer Recommendations
It's been ten years since I owned a cleaning service, so technology has improved, but I tend to agree with dibaby. A $200 POS is not going to do the job that a $5000 machine will.

One benefit of the commercial machines is in the stronger pressure of the cleaning chemical being forced into the carpet fiber. More pressure = greater penetration of the fiber.

The brushes are much better also on a commercial, they really contact and scrub each fiber in a given area.

Another benefit is that a commercial machine will have stronger suction -the ability to extract all that yucky "dirt juice" you just created. If you don't get all the juice out, then you leave a residue or film on the carpet fiber.

Even the people who use the $200 machines regularly still need to use a commercial machine every 3 years or so, otherwise the dirt will just accumulate and grate against the fibers of your carpet, wearing it out sooner.
I haven't seen a residential shampooer yet that is any good, but then again I got used to professional quality machines and am quite particular about my carpets. I wish Dyson would make a residential shampooer, they seem to be quite particular about their vacuums for home use.

The motors on residential vacuums/shampooers are designed to overheat if you use them more than 30 minutes at a time. This will shorten it's working life span. (01/21/2007)

By compulsive cleaner
Carpet Shampooer Recommendations
Oh I guess I should say that the advantage of the residential shampooers is that they are better than nothing, and many people might keep their carpets cleaner, since they are easier to use.

I'm considering one for the same reasons. ;) (01/21/2007)

By compulsive cleaner
Carpet Shampooer Recommendations
I have owned the Hoover residential cleaners.
They will never be as good as the rental units. But in my case I had 2 dogs in a small house. Having the ability to clean up quickly and often is well worth the cost in such a situation. Best money I ever spent.

Still would not hurt to rent one every now and again and if you do not have messy pets or kids with an inability to remove shoes. It is probably cheaper to just rent.
(06/13/2007)

By Dave
Carpet Shampooer Recommendations
As of today I am on my third Hoover in thirteen years.
While that might sound like much, please know that
I have used these machines until they exhaust.
Thirteen years, two machines between,
hey, I'll gladly get a new shampooer every six to seven years,
especially when they are so inexpensive.

Three guys in the house, animals and living in
the country, I don't want my home to reflect that.
I've used the shampooers in the house, on the
porch (outdoor carpet) and everywhere I can.

The first unit, I'm not sure what happened to it,
it's been a while. The second one I've had for a very
long time and it has slowly been dying.
It refused to pick up water and sounded like
a dump truck grinding gears. Today I shopped until I dropped
and what did I come home with? Yet another Hoover.

The other machines not only cost twice as much, but
the plastic is cheap, the machines with all the fancy bells
and whistles give it just one more thing to break.

Hoover has definitely made improvements to their
basic SteamVac. It is lighter and seems to pick up
more water. I even shampooed in my socks as the
ultimate test. Indeed, Hoover, you've done well.

My suggestion? Unless you just have extra cash
laying around for the hoity toity name brands with
bright colors and chrome siding, stick with the good
stuff. Hoover SteamVac with heated cleaning, spin
scrub and a 12 amp motor.

If it can clean MY carpets, you will be quite pleased.
$139.00 at Wal Mart. Yes, I shopped around.

Renting a machine is a pain in the butt, especially
living in the country. When I get on a cleaning whim,
I want to pull the Hoover out of the closet and get
the job done, not drive back and forth with rented
equipment and such. It's mine and I'm going to
use the ever-lovin' heck out of it. :-)

By the way, did I mention the same model now
has a clean surge, for those tough spots? Mine
came with Clean Surge, but some come with a
power hand tool or other goody. I love it.
When this one dies, I'll buy yet another.
Karen Marie
(07/29/2007)

By WUVIE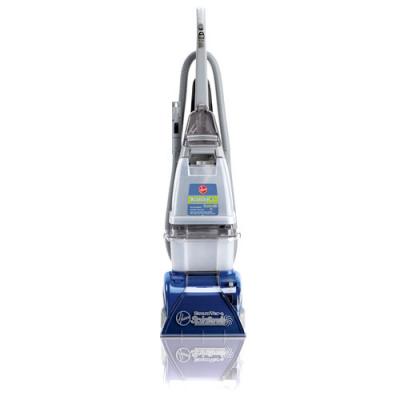 Carpet Shampooer Recommendations
I have a Hoover Dual V and with all the pets and traffic that come through the front and go out the back, I will never be without one. The only gripe I have with a home version of a steamer/shampooer is the tanks are usually too small. So if you are in the market to buy a steamer/shampooer this is a must on your consideration list. Does my Hoover do a good job, you ask? A very good job. I have 6 very large dogs and 26 cats, yes I said twenty-six, and when someone arrives at my home for the first time they always say " WOW your house is spotless and it smells good too " I don't think they would say it unless it was true. (10/31/2007)

By Jennie
Carpet Shampooer Recommendations
I too was wondering about getting a small hand held carpet cleaner because i live in an apartment with white carpet. I do not have the space for a large vacuum, but the carpet badly needs to be cleaned. I am a poor young adult, and I do not have the time or money to waste on stuff that is not going to work. Does anyone have any suggestions for me? I had been thinking about the dirt devil spot scrubber but heard it was bad. I cant find any info on the smaller models.. i also figured it would more worthwhile to get my own then rent because of how frequently I would be using it. If anybody can offer me any help I would appreciate it. If you would send them to me in an email at jennyjs83 AT juno.com Thank you (11/30/2007)

By Jenny
Carpet Shampooer Recommendations
DO NOT BUY A BISSEL PRO HEAT X2. I'm actually taking mine back today b/c it does not suck all the water up, and to empty the dirty tank. There just isnt any water, except in my carpet. I came on here to see what I'll get in it's place, and I'm definitely thinking about a hoover. Thanks everyone u guys helped me out too. Just dont buy a bissel. It sux (02/08/2008)

By teela
Carpet Shampooer Recommendations
Don't purchase their cleaner! Use one cup of lemon ammonia to 1 gallon of hot water! A MUCH, much better cleaner and does not leave behind any residue! (02/08/2008)

By wes
Carpet Shampooer Recommendations
I have owned a Bissel Proheat and a Hoover Agility. By far the Proheat is a much better machine. The hoover just pours water out of the bottom of the machine so you spend you time cleaning up all the leaking water and NOT cleaning your carpet. I returned 3 of the Hoover Agility's hoping the machines were damaged, but it is just a bad design. (02/18/2008)

By LBrown
Carpet Shampooer Recommendations
Hasn't anyone else had a problem with the Hoover's suction hood cracking? I have had three hoovers and each has had the same problem. The plastic hood, that provides the channel for suction, breaks. The corners crack off and there goes any suction. Until that happens, it works great. I have had to purchase two replacements and now my third hoover has the same problem. I don't think my carpets are any more difficult to clean than anyone else's! (03/24/2008)

By Mark
Carpet Shampooer Recommendations
I have just about thrown up my hands when it comes to carpet shampooers. I am very tired of replacing them or taking them back after gently using them a few times. Hoovers clean really good for the first couple shampooings ,but they break easily and the attachment hose clogs up and quits working. I have owned about four different Hoovers, six if you count the ones I exchanged.

I next tried the Bissell Proheat, the first one heated itself up so hot it melted some of the cheap components inside had trouble getting Target to exchange it even though it was within the exchange period got it exchanged it fell apart so my husband rigged it to work until I could get a new one. I bought a Eureeka Atlantis, (the green model) it is simple to use, but again I have problems with it the attachment sprayer for upholstery sprays on too much water and soaks everything even leaves water marks on my lighter furniture.

It also leaks and leaves a puddle of water on my floor under the machine that I have to mop up when I am done. It does alright cleaning carpets just gets them too wet and I have to open windows and turn on fans to dry them. Little worried that if I didn't it might cause mold.

I just bought a new Kirby Ultimate G but haven't been able to figure out how to use the shampooer. I read the manual and followed the instructions but it is not working right so I must be doing something wrong, but one thing with this Kirby is that the parts are built a lot more durable than any others I have owned. Just hope that I can get the shampooer hooked up right to actually start trying it out.

I have heard from an in-law that owns a new Kirby that is cleans carpets so well they look new again. Too bad she lives out of state so she can't come over to show me what I am doing wrong. I don't get it she is blond too. I guess I am the real dumb blond that just don't get it. Well just thought I would put my word in about experiences that I have had with shampooers hope it helps. I will get back to looking for some how to instructions for my Kirby so that I can finish my spring cleaning. (03/29/2008)

By Gina
Carpet Shampooer Recommendations
I used to sell Kirbys. grew up in a Kirby home. Awesome machines, but way high dollar ($1,600-$2,200 New). Call for a demo to learn the machine (beware of the "not-a-high-pressure-sales" pitch), then call your local vacuum clinic and buy a used one (I'd recommend a G4 or newer. The vacuuming is what saves the carpet, the shampoo is only for the surface oils and grime that build up.

Recently moved into an old house where the former renter had several indoor dogs. Stunk to high heaven. The commercial steam cleaning only made it stink worse. So I bought a Kirby, laid out four HUGE boxes of baking soda, vacuumed, and then shampooed the whole house three times. No stink. And....Kirby's last for 20-40 years. I used to take in trades from people who bought theirs in the 1960s-1970s. Awesome machines. I have converted several skeptical girlfriends into huge Kirby fans over the years. (04/16/2008)

By Mark