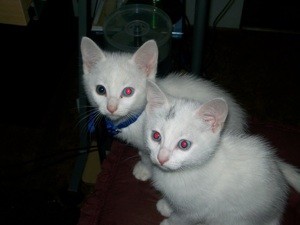 I just got 2 of the cutest kittens, but they like to scratch on the furniture, vacuum bag etc., everything else but their scratching post. Any suggestions or helpful advice? Thanks!

Julie from Albany, OR

Answers:
Cat Scratching Everything But Scratching Post
I'm sure you know the deal about spraying them with water and saying "no" very loudly, but you have to be there to do that. I sprayed my cats scratching post with catnip and then rubbed some catnip leaves into the thing and he took to it then. (11/15/2008)

By Judi
Cat Scratching Everything But Scratching Post
We have a cat in the house. What I would suggest is to get them declawed, otherwise they will tear everything up.
(11/15/2008)

Cat Scratching Everything But Scratching Post
There also are sprays you can use in areas where you don't want them to claw, but I would put it on a cloth instead of directly on the furniture. In terms of declawing, talk with a vet, but only do the front paws. Also, positive reinforcement goes a long way, tell them how great they are when they are on the scratching post. (11/15/2008)

By Allison
Cat Scratching Everything But Scratching Post
I put tape, sticky side up, on the area the kittens are scratching. They do not like the feeling of sticky tape on their paws. Also, rub catnip on the scratching post. (11/15/2008)

By R
Cat Scratching Everything But Scratching Post
My cat used to do the very same thing until I found a material he prefers to "everything" else. He finds his special scratching mat irresistible. I found it quite by accident when I needed a good mat to wipe our feet on. I'll try to describe it: It's a half circle mat that's made to wipe your feet on. This mat is made of jute or natural jute-like fibers.

They make 2 kinds, one is made of loops or twisted fibers. Don't buy one of these because the loops make it impossible for cats to rake their claws through. Mine is made of tiny straight pieces of a natural jute-like fiber that stick up with a rubber backing. This mat doesn't have other fibers or rubber mixed in patches, it's all made the same stuff on the front.

First, buy a test mat to see if your kittens will like it, if they do, you should buy several of them, possibly 3. I have one at my back door and one at my front door for us humans to wipe our feet on when we come in. I also have another one that's placed near my cat's bed. I would recommend you cut one of these mats up and attach part of it vertically it to a wall, a post, or a box that you can move around from place to place. You can use an empty box to attach half of this mat to and put several cans of food in it to weight it down. I would also recommend placing a mat close to your sofa or your kitties favorite place to scratch.

In the beginning, when my cat would start to scratch, I would pick him up and drag his little foot over the matting to show him where he was supposed to scratch. Now, when I see him scratching where he's not supposed to I'll say, "No!" sternly, sometimes he'll stop and sometimes he'll just ignore me (as all cat's do!), but if you put enough of these mats around the house, your kittens will surely pick them over the furniture eventually.

I didn't realize at first that all cats "have" to scratch until a vet told me that they get a flaky type of buildup on their claws that bothers them. This buildup has to be removed. That's why they need to scratch. The jute-type fiber mats work very effectively. I think the fiber feels good to their claws, because my cat can hardly walk by his mat without using it!

My daughter couldn't stop her cats from scratching and didn't want to discipline them anyway so she hung a towel with safely pins on the arms of her furniture to help protect it. I've also read that cats have scent glands in their paws and are leaving their scent and marking their territory when they scratch.

Lots of people use a piece of extra carpeting for their cats scratching needs, but this only confuses them because they then think scratching carpeting is the okay thing to do. The problem is made even worse if you use a slice of your own newly installed carpeting on scratching posts, etc. Because this is "exactly" the same as your home's carpeting. I've read that if you do use a piece of carpeting, make sure it's different that your home's carpeting.

More Information:
http://www.catscratching.com/
Please do not de-claw your cats! Rubbing catnip on the mats as the post from Glen'sMom said is a good idea too! (11/15/2008)

By Cyinda
Cat Scratching Everything But Scratching Post
My cat used to scratch until I got scratch boxes from Wal mart. They are boxes that have corrugated cardboard in them and some cat nip on the bottom. They have never touched the couch again. I replace the box every 2 months or so too. (11/15/2008)

By guest
Cat Scratching Everything But Scratching Post
I would try rubbing some cat nip on your scratching post and you should look into Soft Paws. They are these nail caps for cats that allow them to scratch without ripping anything up. They have been a lifesaver (or I should say furniture saver) around my house! (11/17/2008)

By Angela
Cat Scratching Everything But Scratching Post
If all else fails (as it did in my case), hang throws over the arms of the sofa, and put things, ie. wastebaskets, etc, in the way so cats can't get at the good furniture to scratch it. My cats like the scratch box with corrugated cardboard in it, and a carpet covered lounger thing that we got at the hardware store. They have nothing but dirty looks for any scratch post we ever had. (11/18/2008)

By Louise B.
Cat Scratching Everything But Scratching Post
I hung what was called a "Cat Dancer" from the top of my scratching post to encourage them to climb it and then they got the hang of clawing it. (11/20/2008)

By Beth
Cat Scratching Everything But Scratching Post
I just heard about this the other day on TV. A host Vet said to spray some vinegar on whatever you do not want the cats to scratch on. My cats are outdoors so I don't know if this will work or not. (11/23/2008)

By Laurie