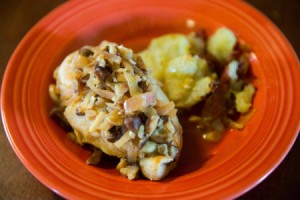 My husband made mimosas for Mother's Day but we only finished about half the bottle of sparkling wine. It was left in the fridge uncorked so all the bubbles were gone. I remembered a recipe for chicken cooked in champagne and was able to whip up this delicious dinner with what I had on hand.
I served it with garlic smashed potatoes, which were less of a success. I will keep experimenting. Any favorite potato recipe would do. It would have been good with rice or quinoa, as well. Add a salad or a vegetable side and you have an elegant meal in no time.
Total Time: 35 minutes
Yield: 2 servings
Source: I loosely based my recipe on this one with many changes. https://bonjourparis.com/archives/poulet-au-champagne-chicken-champagne-cream-sauce/
Ingredients:
2 chicken breasts (boneless and skinless)
1 shallot (or 1/4 red onion), sliced thinly
4 cloves garlic, minced
1 cup mushrooms, sliced
2 cups champagne (or 1/2 bottle any sparkling wine)
3 Tbsp butter
1 tsp marjoram
salt and pepper to taste
I was only using what I had on hand so I would probably make some changes next time. The sauce reduction was the weak point of my thrown together meal. It was still pretty soupy when we were ready to eat. Some roux or cornstarch would have thickened this up nicely. Many recipes called for adding cream, which would have been delicious, or maybe a couple of spoonfuls of yogurt.

If you don't want to cook with alcohol, sparkling grape or apple cider would make a good substitution, maybe with a bit of apple cider vinegar added for some bite.
Steps:
Melt butter in a large skillet on medium heat. Brown the chicken breasts on both sides, about 5 minutes. Remove and cover chicken.
Turn pan to medium low and add in the shallot and garlic. Cook until softened, not browned, about 5 minutes. Add in mushrooms and cook for another 2-3 minutes.
Add the chicken breasts back into the pan and pour in the champagne. This will fizz up if you are not using leftover wine so pour slowly. Bring to a simmer and then cover your skillet. Simmer for 10 minutes then flip the chicken breasts and cook for another 10 minutes, covered.
Let chicken rest for 5 minutes before serving. During the rest time, we turned up the heat and reduced the sauce in the pan.
If you try any variations, let us know how they turned out.
Add your voice! Click below to comment. ThriftyFun is powered by your wisdom!
May 16, 2016
0

found this helpful
I was so disappointed to find a partially used sour cream container in my fridge after making this meal. It would have been the perfect addition.
I also learned that you can "re-carbonate" sparkling wine by adding a raisin to the bottle or glass. It will reactivate the yeast and start bubbling again. I will definitely have to try this for myself in the future.
Add your voice! Click below to comment. ThriftyFun is powered by your wisdom!