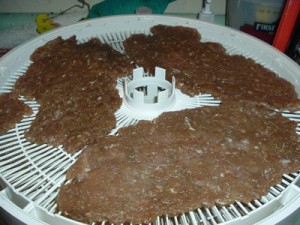 I have just dehydrated a batch of turkey jerky. Amounts are per 1 1/2 lbs. ground turkey. The recipe can be multiplied.
Ingredients:
1 1/2 lbs. ground turkey
1 1/2 Tbsp. coarse pepper
3/4 cup soy sauce
1 Tbsp. liquid smoke
1 Tbsp. garlic salt
1 Tbsp. brown sugar
1 Tbsp. vinegar
1/2 beef bullion cube
1 Tbsp. ginger
1 Tbsp. Worcestershire sauce
1/2 tsp. celery salt
Directions:
Around Thanksgiving, I buy the biggest turkey I can find and freeze it until I'm ready for jerky. Depending on the size of the turkey, I have enough jerky for almost a year. I grind the turkey myself, but if you are using store bought ground turkey, add 1 tsp. of vegetable oil for each 1 1/2 lb. of turkey, otherwise it will have a papery texture. If you are grinding your own, use the skin on the breast only and do not use any other skin or fat or it will make it way too greasy. Mix all ingredients together well and marinade at least 24 hours, before dehydrating.
One thing I have found, is that instead of making individual logs of turkey to dry, I tape down two 1/4 inch dowels about 5 inches apart and put down a large sheet a saran wrap over them. I put approximately 1 1/2 cups of the mixture in the middle, fold the wrapper over the top, and roll it out with a rolling pin, almost in a football shape. If you want you can sprinkle more pepper, crushed red peppers, minced garlic, or seasoning of your choice, but cover back over with a cellophane and gently rub in.
It is very easy to transfer the thin layer of meat onto the dryer racks. Open up the saran wrap, put your hand underneath with the saran wrap between you and the meat, and gently flip over on to the drying rack that has been sprayed with cooking spray or it will stick.
I set my dehydrator to 160 degrees F and depending on the humidity the turkey jerky will dry in 5 to 8 hours. After it is completely dry, take clean scissors and cut in strips. This saves so much time over trying to roll out separate little strips.
By Babette from Lemon Grove, CA
Read More

Comments