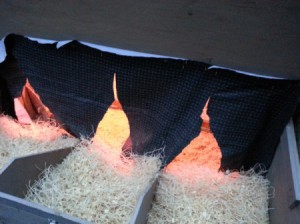 Do chickens need curtains? Yes! I didnt believe it either until I tried it for myself. I have one floor in my chicken coop so the nest boxes are on ground level essentially. It is a pre-fab so it's how the coop was made.
So when my girls started laying I noticed everyone tried to step all over the laying hen. This was stressing them out. It got worse when I added three new hens that weren't laying yet. They would step all over the girls while they were concentrating on laying their eggs. When you think about, it was like having some other woman all up in your Kool-aid while you are in labor just doesn't sound so nice does it?
To make matters worse, since the immature hens weren't laying they didn't pay any mind to pooping all over inside the nests, which also stressed out the more mature pullets. So I decided to try this crazy idea I had seen before, installing chicken curtains. They do work! Your girls may be a little wary of them at first, but will quickly learn to appreciate the privacy and darkness of the nest boxes with the chicken curtains up.
They can be made of many types of fabric. Keep in mind chickens like to destroy things. You don't want a fabric that is easy to unravel or can be torn easily. It may be tempting to get something plastic like the type of heavy oil cloth that tablecloths are made of so they are easy to clean. Remember they don't breathe and they can be fairly sharp around the edges. I chose a fairly stiff cotton or cotton blend. I didn't finish the edges of the flaps as I wasn't sure this would work. But I would recommend sewing the edges for longer wear.
Cut the curtains so that there is some room for the girls to look out. A very slight upside down V shape works well. I measured the amount I needed from side to side then hit the fabric remnants and resale shops. You can make them pretty inexpensively. Mine cost me around $2 and I have plenty of fabric to replace them when they get icky. They can be made to add a bit of color to your coop and even be changed on holidays. Some people do tie backs and bows and the whole nine yards!
Here are some things to keep in mind:

Plastics don't breathe and the sound often upsets chickens.

Burlap is easy to unravel, is pokey, dusty, and puts off a very strong odor.

Cottons breathe well and are usually the best option, although cotton blends work well too.

Wools are alright, but in the summer may hold in too much heat.

Make sure to cut the curtains so they are just above the floor. That way the chickens don't trip and the ends of the curtains don't become decorated in chicken dookie!

Stay away from ribbons and such as chickens can and will eat them and they don't digest well. Be sure to clip off any strings you see as the same applies there.
I plan to change mine when they get to looking dirty or if they become frayed. My curtains are simply power stapled to the ceiling, but you can use cafe curtain rods or even just make a fold across the top and pull a string through them. You don't need to know how to sew. You can use iron on webbing to finish the sides or just simply sew them up if you can sew.
They keep the nests much cleaner. I no longer get poop on any eggs because a hen is moving around to keep from being stepped on. The immature hens no longer hang out in there using it for their own personal toilet. I have also noticed it takes less time for the chicken to lay her egg as she can relax and just get to it.
It helps keep nesting materials rounded up in the nest too. In the summer they will provide shade and in the winter they help keep in the heat when the hen is in there sleeping or laying an egg. They may also help protect against your eggs freezing. So yes, chicken curtains are a very good idea!