(Guest)
Gold Post Medal for All Time! 846 Posts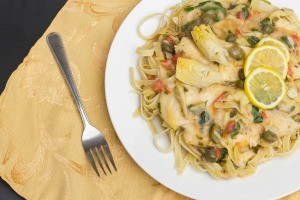 I just came across this searching my tried and true recipe box and realized I haven't made it in a couple of years even though it's one of my all time favorites. Needless to say, it's what's for dinner some time this week!
Okay, I know the world standard recipe for Chicken Piccata calls for breasts but I prefer the thighs! I love this with sauteed green beans and a butter lettuce salad dressed simply with oil and vinegar ;-)
Ingredients:
2 boneless, skinless chicken thighs pounded to a thinner and even thickness
3 Tbsp. extra virgin olive oil
Flour for dredging
Salt and pepper
1/2 cup white cooking wine
1 Tbsp. nonpareil capers
2 Tbsp. lemon juice
1/4 cup chicken broth
Directions:
Heat the oil in a skillet over medium high heat. Dredge thighs in flour, place in heated oil and lightly season with salt and pepper. Cook until lightly browned (about 2 to 3 minutes on each side). Meanwhile, stir wine, lemon juice, stock and capers together.
Once both sides are browned, pour liquid mixtures over the thighs. Cook about 2 minutes longer for liquid mixture to be heated. Serve with the skillet sauce spooned over the thighs.
By Deeli from Richland, WA
Read More

Comments