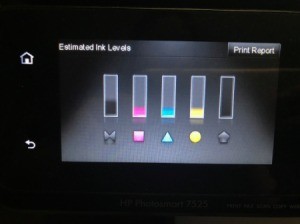 If you are planning to purchase a printer, I would recommend that you check to see how many ink cartridges the printer takes and research the cost of the ink cartridges. One huge disadvantage of the printers that require five cartridges is that if one cartridge is out of ink, you are unable to print until you replace that ink cartridge. There is no way to bypass low ink, or no ink.
I have a HP Photosmart 7525, purchased from Costco for $130. This printer requires five Cartridges. The cost of individual cartridges for this printer, in no particular order since all five are needed to operate the printer:

Black Photo $13.99
Black Ink $15.99
Yellow $13.99
Blue $13.99
Magenta $13.99
Total Cost: $71.95
Compare this to my new printer, which is a HP Envy 5661. I purchased it from Costco for $65 a couple of months ago. The advantage with this printer is that it only requires 2 cartridges, a color and tri-color. When one ink cartridge is out, you can still proceed to print. The cost of cartridges for this printer:

Black: $16.99
Color: $21.99
Total Cost: $38.98 (Assuming you purchase individually as you run out, but if you purchase the bundle it's slightly cheaper at $36.99.)

I don't recommend printers that require so many ink. Those printers will really drain your wallet because once you change an ink cartridge, it seems like another one is running low and it is a chain reaction. Not to mention the printers itself and ink cartridges are more expensive and does the same quality printing as other printers. I am saving money with my new ink purchase!