Refilling Printer Ink Cartridges
Solutions
Share on ThriftyFunThis page contains the following solutions. Have something to add? Please share your solution!
Save money by refilling your own printer cartridges. I found that refilling ink cartridges is very simple and will save a ton of money! I ordered a refill kit from inksell.com and it came with everything to do the job. The kit cost $12, and was good for 4 refills. I didn't spill a drop, and customer service is excellent with the company.

By Roger from Hampton, VA
Comments
By Trix (Guest Post)
July 19, 2006
1

found this helpful
Top Comment
I know that refilling your own cartridges is cheaper, but doing so may void your warranty. Check your warranty to make sure you aren't going to end having to buy a new machine if the ink does any damage. If you pay for service on your printers (e.g. a company machine) then you may be voiding the service contract as well. Too many of the refill systems end up damging the machiens and printheads, so lots of companies now will include coverage for this kind of damage in their warranty.
July 19, 2006
1

found this helpful
Top Comment
Some brands of printers are easier to refull than others. My husband is a wiz at it - but he still can't do our HP. Canons and Lexmarks are good in this respect from our experience - and older printers are easier to refill - because they have put booby traps in the newer cartridges to make them harder to refill!
It's worth a few bucks to try - FYI - printers are terribly cheap (relatively) these days - because they make $ on the CARTRIDGES - not the printers!
Buying a new ink cartridge is expensive, especially if you have a lot to print or you're printing out photos. Recently I've noticed that I can't even print out 100 black and white pages before I need to change my ink cartridge. I have set the printer to the setting where I print out the pages using the ink saving setting. I don't need high quality pages and therefore it is not necessary to use the high resolution or normal setting on my printer.
I live in a country that imports all of our goods. Therefore, our ink is rather expensive and it is not practical to use to print out large amounts of documents. Fortunately, I can buy the ink I need to refill my own ink cartridges. When I refill my ink cartridge I find that I can now print out close to 250 pages before I need to refill the cartridge again. Refilling your ink cartridge is simple. Here is all you need to do the job.

Total Time: 10 Minutes
Yield: 1 refilled ink cartridge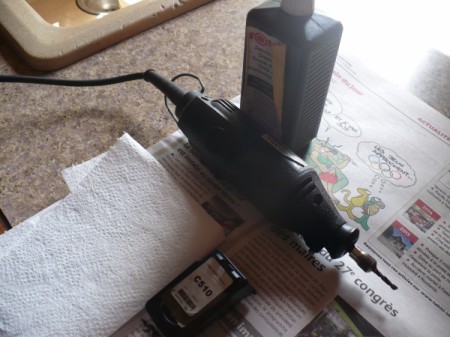 Supplies:
1 bottle black ink for printers
1 bottle magenta (red) printer ink
1 bottle cyan (blue) printer ink
1 bottle yellow printer ink
paper towels
newspaper
1 syringe
1 small drill bit
1 hand held drill or Dremel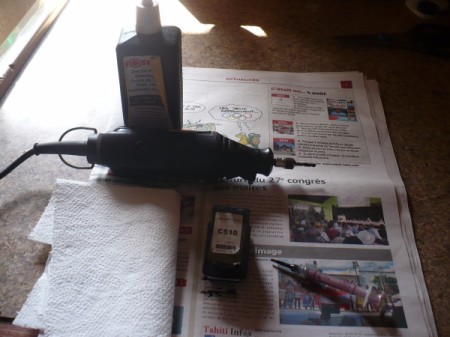 Steps:
Before starting cover your work surface with newspaper.
Place the ink cartridge on the newspaper.
Gently peel back the label on the top of the ink cartridge.
The black and color ink cartridges have 3 indentations or round circles on the top of the cartridge. These circles give you access to the ink reservoirs that you'll need to refill. Note the size of your hole when selecting your drill bit. The drill bit should be the same size as the circle or a little bit smaller. You don't want a large hole in the ink cartridge.
Attach the drill bit to the handheld drill or Dremel. Place the drill bit on the hole at the top. Gently press on the drill bit to hold it in place and start drilling your hole.
Drill the other two holes using the same method.
Fill the syringe with 50 ml of ink.
Insert the syringe into the hole. Gently push the syringe into the sponge inside the ink cartridge. Once in place slowly inject the ink into the sponge.
Fill the two remaining holes in the same way.
Wipe off the top of the ink cartridge using your paper towel. You don't want ink on the top of the cartridge.
Replace the label on the ink cartridge. If your label won't stick use a small piece of tape to cover the holes. Some people say to leave the label off and not cover the holes. This allows the air to flow inside. However, if you live in a humid country this also lets the humidity inside the ink cartridge and can damage your printer.
Afterwards, let the cartridge sit for 8 hours before replacing it back in your printer. This gives the sponge time to absorb the ink.
I have been using this technique for a number of years. I can refill one ink cartridge about 8 times before I buy a new one. I wouldn't recommend refilling your ink cartridge too many times. Afterwards, this can damage your printer head.
Refilling is really a money saver, I have been doing this for over 6 years. The key is buying the ink that is designed for the manufacturer's tanks/cartridges.
Read More...
Questions
Ask a QuestionHere are the questions asked by community members. Read on to see the answers provided by the ThriftyFun community or ask a new question.
Can you refill HP cartridges?
By Baz C.
Answers
November 17, 2011
0

found this helpful
Best Answer
If you can get the refills or the bulk ink then you can refill it because hp does they just have the plugs but my friend does and puts a small screw in the hole so it won't leak. It used to come in bottles in Staples but Dell wouldn't let them sell their ink until they removed the refills.
November 18, 2011
0

found this helpful
Best Answer
If you have an Office Max near you they refill HP cartridges for $10 after a one time fee. I tried doing it myself once and wound up having to buy a new printer.
Answer

this Question

...